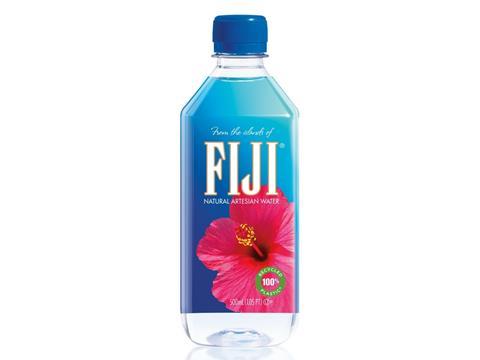 Fiji Water has reportedly implemented '100% rPET' into its 300mL and 500mL plastic bottles in the United States, taking a step towards the company's aim for the adoption of sustainable plastics across its bottle portfolio by 2025.
According to Fiji, replacing its current design with a recycled alternative is expected to reduce its contribution to plastic waste. Switching to rPET is also hoped to cut CO2 emissions by up to 79% during the bottles' production.
"In our transition to recycled plastic, our intention is to make a truly meaningful and lasting environmental impact," said Clarence Chia, senior vice president of marketing at Fiji Water. "We are using recycled plastic to breathe new life into existing materials, while maintaining Fiji Water's same great taste, look and quality that consumers come to expect from Earth's Finest Water.
"We will continue to set ambitious targets to drive innovation and transformation in our approach and commitment to sustainability and look forward to building on this momentum."
Fiji's redesign is not its first claim to sustainability in packaging. Its parent company, The Wonderful Company, is owned by Stewart and Lynda Resnick, who donated $750 million to Caltech in a reported contribution to its environmental sustainability research – a portion of which is said to focus on decomposable plastics.
Where rPET is concerned, Fiji follows in the footsteps of evian, who partnered with Loop Industries to build a prototype rPET water bottle containing low- and no-value plastics.
Henkel's Pril dishwashing liquid bottles are now said to be made of 100% rPET, sourced from both recycled beverage bottles and Germany's 'yellow bag' collection system.
Agr International has also expanded its Process Pilot portfolio to improve the efficiency and quality detection of its blowmolding process for rPET bottles.