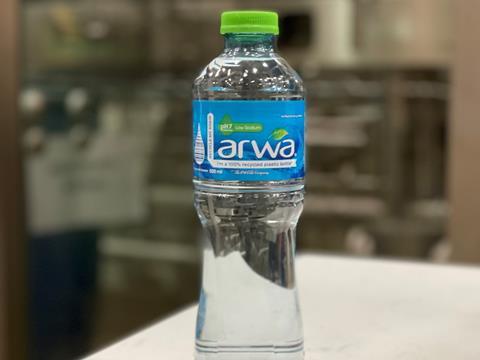 Coca-Cola Middle East has announced 100% recycled PET bottles for Coca-Cola beverages across official FIFA World Cup 2022 venues in Qatar, including stadiums and fan zones.
Apparently aligning with Qatar's Supreme Committee for Delivery & Legacy (SC)'s initiatives on responsible plastic recycling, Coca-Cola Middle East's pilot of 100% rPET bottles is the first time the packaging will be in circulation at a FIFA World Cup tournament and is Coca-Cola's debut in locally producing 100% rPET bottles in the region. 350ml Coca-Cola, Sprite and Fanta bottles, plus 500ml Arwa water bottles will be available.
Eng. Bodour Al Meer, the SC's sustainability executive director, said: "In addition to our One Tide program, the pilot of Coca-Cola Middle East's 100% rPET bottles will significantly reduce the impact of single-use plastics and aligns to our concerted efforts to leave a sustainable legacy long after the FIFA World Cup 2022."
Tolga Cebe, vice president & general manager for Middle East at Coca-Cola, said: "Piloting the 100% rPET bottles for our CocaCola, Sprite and Fanta beverages and Arwa water during the tournament marks a major milestone for our operations in the region. It is an important step towards our global World Without Waste ambition to collect and recycle a bottle or can for every one sold by 2030."
Reportedly, Coca-Cola Middle East has placed dedicated recycling bins across FIFA World Cup 2022 venues and says it will educate volunteers and fans on responsible recycling through its on-ground and on-screen communication, ensuring recyclable plastic waste is placed in the right bins for repurposing.
The SC adds that plastic bottles segregated and collected during the tournament will be recycled and converted into rPET bottles in-country, in an effort to close the loop and leave behind a green legacy.
"Our immediate objective is to raise awareness of this issue and help people in Qatar – and globally – reduce their reliance on single-use plastics and encourage sustainable behaviours," Al Meer commented.
Implementing 100% rPET bottles is a move also taken by several companies earlier this year, with Fiji Water announcing a re-design of two of its plastic bottles and Australian winemakers Accolade Wines and Taylors Wines collaborating with Packamama to launch wine bottles allegedly made from 100% rPET and with a flatter profile to reduce road transport emissions.