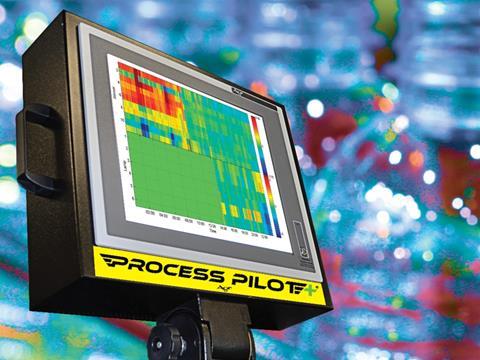 Agr International has introduced two new additions to the Process Pilot portfolio, Process Pilot+ and Pilot Vision+, aimed at improving efficiency and quality detection during the blowmolding process for PET bottles containing recycled content.
According to Agr International, Process Pilot+ builds on the company's Process Pilot automated management system and reflects the latest advancements in automated blowmolder control for PET bottles. The Process Pilot+ reportedly incorporates a patented technology that improves blowmolder efficiency and profitability by enabling operators to optimize the blowmolder based on performance, energy efficiency, and operating costs.
Agr International says that the Process Pilot+ system works in conjunction with the blowmolder to continuously measure and maintain optimal material distribution on every bottle. The company adds that this enables the blowmolder to maintain quality and performance attributes despite environmental conditions and recycled PET variations.
In addition, Agr International claims that the Pilot Vision+, its new in-the-blowmolder vision system, is also aimed at quality management for bottles with high percentages of rPET. The company says Pilot Vision+ is designed to work in conjunction with high-speed reheat stretch blowmolding equipment and offers a modular approach to defect detection inside the blowmolder.
The open architecture of the Pilot Vision+ system allows for the simultaneous management of up to six cameras in multiple locations, according to the company. Agr International explains that Pilot Vision+ can also be combined with Process Pilot+ for a total bottler management solution, apparently providing the ability to detect randomly occurring defects, as well as manage the process for maintaining precise material distribution, even with lighter or difficult-to-process bottle designs.
Agr International adds that its Gawis 4D measurement system for beverages and other types of bottles offers an all-in-one laboratory measurement system, which helps to streamline laboratory measurement options by performing critical dimensional and thickness measurements in one operation. Combined with a robotic handling system, the Gawis 4D can apparently measure up to 128 bottles or preforms in one hands-free operation.
The company claims that the Gawis 4D offers high levels of accuracy, repeatability, and operational throughput. It also features Agr's patent-pending AutoJob, which provides the ability to create complicated job setups in a matter of seconds, according to the company.
Agr International will display its portfolio of quality management and process control equipment for beverage containers at drinktec 2022, taking place between the 12th and 16th of September 2022.
Earlier this year, Agr International unveiled the Ramp Pressure Tested 3, an all-in-one system for pressure testing glass containers designed to maximise laboratory or plant floor throughput.