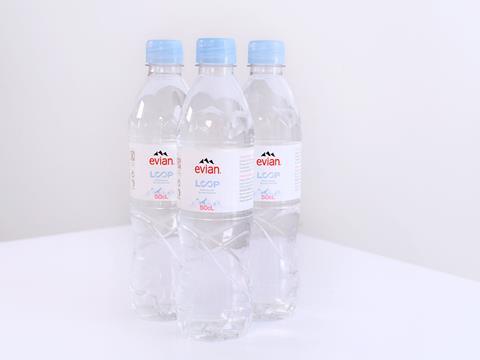 Danone-owned evian announces the outcome of its four-year partnership with Loop Industries: a prototype rPET bottle that reportedly uses no and low value plastics, which would otherwise go to waste.
According to evian and Loop Industries, its "ground-breaking technology" can use PET plastic waste from a range of sources, as well as ocean, coloured and opaque plastics and polyester fibres.
The process involves breaking down plastic waste into monomers, which are purified and repolymerised into Loop PET plastic. This rPET resin is of virgin quality and is used to make the prototype evian bottles.
evian says that the prototypes are intended to enable a continuous loop for recycling at a large scale, as reflected by the protype bottles being renamed 'evian Loop'. The aim of the prototypes, it claims, is to allow more plastics to be kept in use, reduce reliance on fossil fuels, and avoid the creation of new plastic.
According to Shweta Harit, VP of marketing at evian: "Keeping plastic out of nature and within the circular economy is a key priority for evian as we continue to work to become part of the solution to tackle environmental issues.
"By partnering with Loop Industries, we can look to accelerate our drive to keep the use of virgin plastic to an absolute minimum, whilst also preserving the uniqueness and purity of our natural mineral water."
evian has pledged to transition to 100% recycled plastics in all of its plastic bottles by 2025.
Last year, evian announced that it would transition to 100% rPET bottles in its UK and Ireland range, apparently bringing the use of recycled plastic content to 70% in this market. evian also unveiled a new, label-free water bottle made from 100% rPET (except for the "Evian pink" bottle cap), which it initially distributed across select venues in France from July 2020.
This collaboration with Loop Industries represents a further commitment by evian to its ongoing circularity goals.
Daniel Solomita, founder and CEO of Loop Industries, says: "We are proud to announce an important milestone in the commercialization of our technology, with the first commercial production of consumer beverage bottles made entirely from Loop branded PET resin using 100% recycled content.
"We are particularly proud that this milestone is being achieved in partnership with iconic global beverage brand evian."
The new PET plastic recycling technology for evian bottles will be rolled out across markets from 2022.