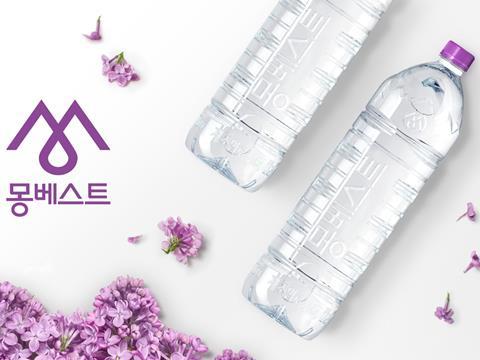 Gentlebrand has designed a new 'no-label' bottle for Korea Crystal Beverage's Montbest ultra-pure water brand in accordance with South Korean efforts to reduce its use of plastics.
Although removing the label is said to have been challenging from a brand differentiation standpoint, the packaging has now been redeveloped to emboss the Montbest logo and legally mandated product information into the body of the bottle. As such, it is thought to be both visible and legible. Prototyping and laboratory tests are reported to have taken place to test these qualities.
The new bottle – available in 330ml, 500ml, and 2-litre variants – is now rectangular rather than round, with grooves in each corner expected to give it a 'premium look and feel' by reflecting light and providing consumers with a better grip. The purple colourway has been carried over from previous designs.
Sixty-eight moulds are said to have been manufactured for existing production lines by PET packaging solutions specialists Competek.
Other solutions have been proposed to ensure the compatibility of labels with existing recycling streams. A past project saw Gentlebrand attach an organic paper label to the neck of a plastic bottle without adhesive, allowing for easier separation and recycling of the packaging components. The labels also contained aromatic seeds that matched the flavours of the beverage inside the bottle.
This year, CCL Label unveiled EcoStream, its pressure-sensitive labels made from a floating, low-sensitive polyolefin material thought to separate from heavier PET flakes during the recycling process.
Meanwhile, Fiji Water recently claimed to implement '100% rPET' into its plastic bottles sold in the United States as part of the company's efforts to utilise sustainable plastics across its bottle portfolio by 2025.