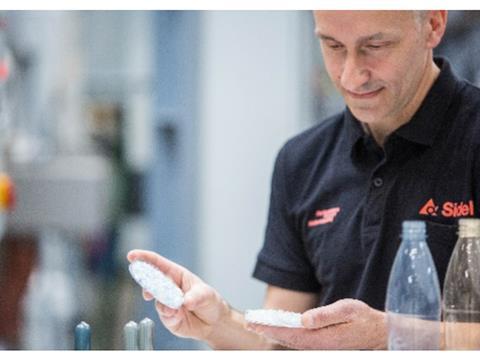 Sidel has opened a new, small-scale PET recycling pilot line in Octeville, France, hoping to gain an understanding of and guide the packaging industry through the use of recycled PET.
The line will take raw materials from industry partners such as sorting facilities, recyclers, and brand owners, then recreate and observe the recycling process from bales to flakes – including pellets ready to be injected into preform, injection, and blow moulding.
The company aims to gain a deeper understanding of the recycling process for food-contact PET bottles and enable the packaging industry to produce rPET bottles more widely, as well as build upon its own packaging solutions. Its current research into the impact of additives and primary packaging materials on rPET resin is also thought to benefit raw materials producers, recyclers, and recycling regulatory organisations.
Citing the findings of the Ellen MacArthur Foundation's Global Commitment 2021 progress report, Sidel claims that the 5% recycled PET implemented into packaging globally in 2018 has since increased to 8%. European packaging contains 15% rPET and is expected to grow to 35% in 2030.
"There is a big move towards recycled PET, but demand is outstripping supply," says Naima Boutroy, Sidel's global packaging expert. "The market still has a lot to learn and we can provide valuable insights.
"There is a variability in recycled PET resin grades, and standardisation is still in development. We need to address this to create the best possible finished bottles. Our line will test the recyclability of post-consumer PET bottles from different feedstocks, including additives and caps as well as labels, inks, and glue.
"We will be working with traditional Sidel customers such as brand owners, converters, and co-packers, as well as other suppliers like raw material producers, recyclers, and regulatory organisations, to enable the scaling-up of rPET capacity. We can also check if any innovations comply with bottle-to-bottle recycling."
Ampacet and Pellenc ST recently unveiled a brand of alternative black masterbatch solutions to allow for the mechanical recycling of dark PET packaging.
Fiji Water was also said to implement '100% rPET' into its 300mL and 500mL plastic bottles in the United States in line with its goal of switching to sustainable plastics across its portfolio by 2025.