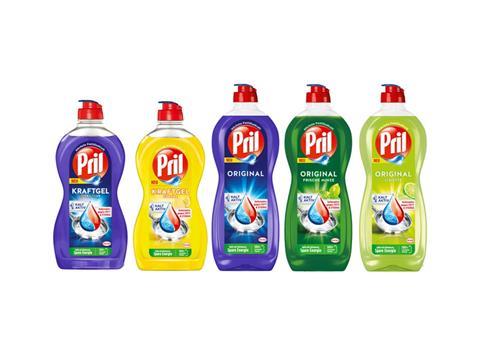 Henkel has announced that the bottle bodies for its Pril dishwashing liquid brand now include 50% recycled material from the 'yellow bag' collection system in Germany, with the remainder sourced from recycled beverage bottles to bring the total composition up to 100% rPET.
Henkel says that, in Germany, the yellow bag is becoming an increasingly important source of raw materials for recycling. In partnership with Alpla, Henkel has been sourcing and using recyclate from yellow bags in its packaging since the start of 2022.
Carsten Bertram, head of international packaging development in the dishwashing detergents division at Henkel, explains: "Packaging materials that are collected via the yellow bag are significantly more heterogeneous than returnable bottles and in some cases heavily contaminated.
"For a long time, high-quality recyclate from the yellow bag was not available in sufficient quantities. Through cooperation with the packaging manufacturer and plastics recycler Alpla however, we are now a big step further."
According to Henkel, it has switched the bottle bodies for its Pril dishwashing liquid range to 50% high-quality recyclate sourced from yellow bag recycling. With 50% of the Pril bottle body also being made from recycled beverage bottles, Henkel claims that the bottle body now consists of 100% rPET.
Dietmar Marin, managing director of the recycling division at Alpla, adds: "We are very pleased to support Henkel in the conversion of its packaging.
"Investments in modern recycling structures are only possible if there is sufficient demand for recyclate from the yellow bag on the part of industry. Henkel is sending an important signal here."
Henkel is reportedly planning to increase the proportion of recyclate from the yellow bag collection system used in the Pril bottle bodies. By 2025, Henkel is aiming for 100% of its packaging to be recyclable or reusable.
Bertram concludes: "In order to enable a functioning circular economy in the long term, it is important that all packaging is designed to be recyclable, that the required recycling infrastructure and the appropriate technologies are in place, and that post-consumer recyclate is also used as standard to produce new packaging."
Earlier this year, Henkel relaunched the Schauma range of its Schwarzkopf brand with lighter bottle bodies containing 50% recycled plastic, alongside a bottle design that apparently offers clearer and more personal communication with the consumer.