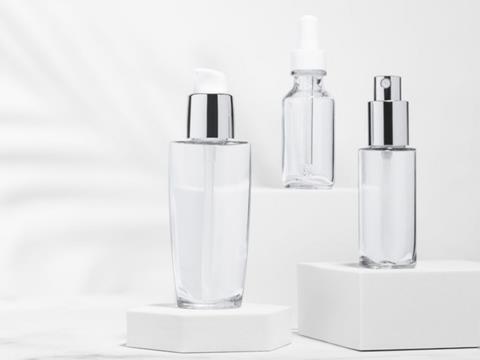 Lumene is packaging its newest skincare product in a bottle made from Eastman Cristal One E Renew, a recyclable resin containing molecularly recycled content specifically designed for extrusion blow moulding and apparently compatible with existing PET recycling streams.
In a collaboration with Eastman's long-standing innovation partner Rebhan, Lumene is utilising the resin for its Nordic Hydra Birch Dew Jelly packaging. Featuring a blue gradient decoration, the extrusion blow moulded bottle is said to contain 50% certified recycled content and to be easily recyclable in PET recycling streams, as endorsed by the European PET Bottle Platform and the Association of Plastic Recyclers under Resin Identification Code 1 (RIC1).
As the newest grade in the Eastman Cristal One portfolio, Cristal One E is expected to provide brands with the ability to create distinctly-shaped and sharp-edged designs with unique packaging features to convey their branding. Rebhan anticipates that the polymer will allow it to implement recyclable content, allocated via ISCC-certified mass balance approach, into its Glass Polymer line of extrusion blow moulded packaging without sacrificing high quality and performance.
The Nordic Hydra Birch Dew Jelly bottle, thought to provide a maximised sustainability profile, is hoped to enhance the 'unique formulation' of the serum-in-moisturiser.
"Lumene's ambition is to have 80% of its packaging made of recycled or recyclable materials by the end of 2025," said Julia Vlasova, global senior brand manager at Lumene. "When developing this two-in-one hydrating skin care product, we were looking for a sustainable packaging option that would not compromise on the product presentation. Cristal One E allows visibility of the beautiful formula and elevates the overall consumer experience."
Towards the end of last year, Quadpack's New Regula Refill Jar was announced. It features a thick outer wall made of PET and an inner jar and double-walled cap made of PP, all of which is reported to be recyclable.
Hoffmann Neopac also released a range of caps containing 70% post-consumer recycled content for personal care and beauty packaging; the designs are apparently compatible with existing HDPE streams.