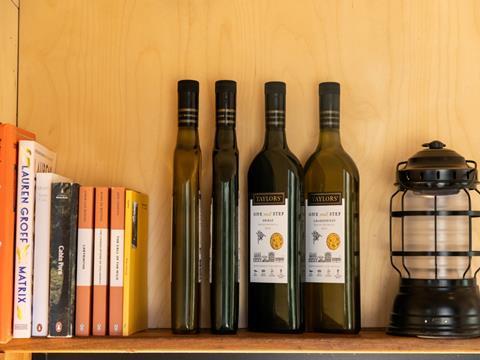 Packamama has collaborated with winemakers Accolade Wines and Taylors Wines on the Australian market launch of wine bottles made from 100% recycled and recyclable PET with a flatter profile that reportedly allows twice as many bottles to fit in a standard wine case, reducing carbon emissions linked with transit.
Packamama says that its 'eco-bottles' feature a nod to tradition with the high-shouldered silhouette of a traditional Bordeaux wine bottle, but have a slimmer, flatter profile that apparently allows twice as many bottles to fit in standard wine cases. The use of recycled PET as the main bottle material also makes the bottles approximately 83% lighter than glass bottles, the company adds.
According to Packamama, the flat and lightweight wine bottle could reduce the road transport emissions for the Australian wine brands, Banrock Station and Taylors' One Small Step range, which will be sold in the bottles. An annual reduction of 250,000 km of road freight could reportedly be achieved if Accolade Wines and Taylors Wines switched their entire portfolio to the eco-bottles.
In addition, the companies say the lighter, unbreakable recycled PET plastic bottle is a more convenient option for consumers, especially on-the-go, such as for picnics or holidays. The bottle is allegedly fully recyclable after use, although this does not include the cap.
Santiago Navarro, chief executive and founder of Packamama, comments: "Australia is globally recognised as a leader in wine packaging thanks to break-through innovations, including bag-in-box casks and screw-top caps for wines, and we are highly motivated to launch our climate-friendly bottle at Coles with Accolade Wines and Taylors Wines.
"Coles' ambition to be Australia's most sustainable retailer is powerfully aligned with our ambition to deliver the world's most scalable, sustainable bottle."
The flat, 100% rPET bottles for Banrock Station wines and Taylors' One Small Step will be sold exclusively at select Liquorland and First choice Liquor Market stores across Australia from June 2022. This will apparently be the Australian market debut for the Packmama eco-bottles.
Mia Lloyd, acting general manager of customer, trade planning & insights at Coles Liquor, adds: "We know our customers want us to do more in relation to sustainability and this exclusive collaboration with Liquorland, First Choice Liquor Market, Packamama, Taylors Wines and Accolade Wines significantly reduces the carbon footprint of wine for customers every day.
"The lightweight and flatter eco-bottle also gives our customers a convenient new option when they're packing for that camping or caravan holiday."
Sandy Mayo, global chief marketing officer at Accolades Wine, says: "In the last 18 months alone, we have launched a variety of sustainable and innovative packaging solutions including wine in cans, wine on tap, bagnums, as well as a world-first circular, sustainable packaging solution for on-promise partners.
"We chose Banrock Station to launch the eco bottle in Australia, because the environmental credentials fit perfectly with the brand's 25 year sustainability heritage and its commitment to forging a more sustainable future for the planet."
In 2020, Accolades Wines partnered with Garçon Wines to launch a flat wine bottle for Banrock Station's Merlot and Chardonnay, which was made from 100% rPET, in Europe. At the time, the companies said that the bottles were 87% lighter than the average glass bottle. Garçon Wines has also previously worked with DS Smith on a 10 Flat Bottle Case for the eco-bottles, which is apparently 55% smaller than standard cases that typically contain 6 glass bottles, offering lower carbon emissions and costs linked with logistics.
Mitchell Taylor, third-generation winemaker and managing director at Taylors Wines, concludes: "We know that Australian wine drinkers are very open to innovation when it provides real benefits, like this sustainable eco-bottle does.
"Australia led the global change from cork to screwcap and Taylors was the first major producer to bottle all our wines under the closure.
"We believe Australians will again lead in adopting this more sustainable bottle."