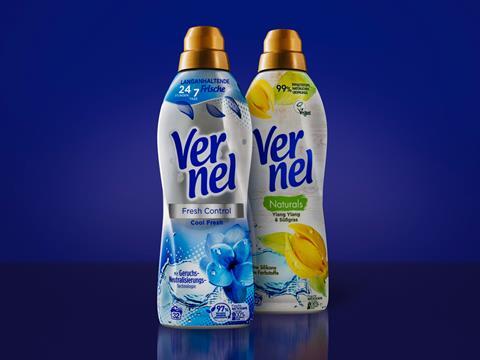 Henkel and CCL Label have won an AWA (Alexander Watson Associates) Award for a pack that uses EcoFloat – a sleeve technology designed to improve the recycling of PET bottle bodies.
This low-density label material can be separated from PET bottle components during the sink-float separation process at recycling facilities. While the heavier bottle material sinks to the bottom of the water baths, the lightweight sleeve material floats to the top, even with full printed designs.
CCL Label reports that this enables a clean separation of the PET and the label material, which is necessary to gain high-quality PET recyclate.
"The bottle body of our fabric softeners in Europe already consists of 100% recycled PET. Using the new sleeve material, it is now also designed for recycling," said Abdullah Mahmood Khan, Head of Global R&D Packaging for Fabric Enhancers at Henkel.
"Many consumers don't remove the sleeve before discarding the bottle, which mostly means that the bottle cannot be recycled either. We have now found a solution to enable the recycling of our bottle bodies in this case."
Henkel is using the new sleeves in about half of its fabric softener product portfolio in Europe. The project hopes to play a role in Henkel's 2025 packaging targets, which state that 100% of its packaging will be designed for reuse or recycling by that time. The company also aims to reduce the amount of virgin plastics from fossil sources in its consumer products by 50% by increasing the proportion of recycled plastic to more than 30% and reducing overall packaging volume.
"When it comes to sustainable packaging decoration, we strive to be the industry leader – and we are proud to see this acknowledged by industry experts like AWA," says Marika Knorr, Head of Sustainability & Communication at CCL Label.
"It is an integral part of our sustainability roadmap, and we make sure that our products are in line with the official design for recycling guidelines of organizations like RecyClass in Europe and APR (Association of Plastic Recyclers) in the USA."
If you liked this article, you might also enjoy:
The Lidl approach to packaging sustainability
How did Brazil achieve its 100% aluminium can recycling rate – and can it be replicated in the EU?
Experts have their say on the EU's Packaging and Packaging Waste Directive revisions
A deep dive into the most important packaging sustainability trends and solutions