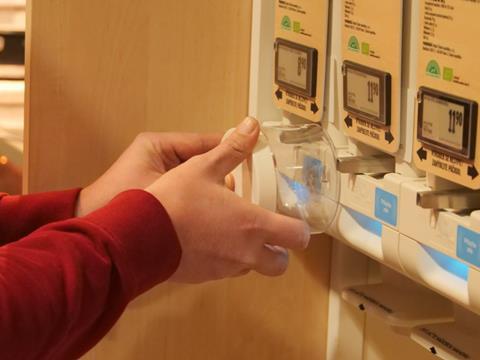 Miwa Technologies is receiving over €5 million in funding through the European Innovation Council's EIC Accelerator programme for the further implementation of its smart reusable packaging system in European supermarkets.
Retailers Aldi, Albert Heijn, and several supermarkets in Czechia and Portugal are currently utilising Miwa's solution, which uses smart, reusable B2B capsules and electronic dispensers with the aim of minimising packaging waste. Data flows apparently enable effective management of the packaging pool as well as efficient system operations in such areas as stock management.
Introduced by the European Commission, the EIC Accelerator is designed to support SME companies in the development and scaling of new innovations, with Miwa thought to be the first applicant from the reusable food packaging sector to have successfully passed its three-round selection process. The company is also opening the investment round of €7 million to private investors in the coming weeks, with around 40% of this sum now confirmed thanks to the EIC Fund.
"At the end of 2021, Miwa was installed at its first large retailer," says Ivana Sobolíková, who is in charge of investor relations and fundraising at Miwa. "One year later, in December 2022, Miwa was installed at four large retailers in nine supermarkets. For 2023 we have set the target to close the year with installations in a hundred stores in Europe.
"As of March 2023, about fifty locations, mainly in the German-speaking region, have been confirmed. The investment round should allow us to execute business and company growth for 2024 and 2025, thanks to which the Miwa solution should become much more accessible to consumers in Europe."
She continues: "We are at the beginning of a fundamental transformation of the entire packaging industry, as evidenced by the currently ongoing revision of the European directive on packaging and packaging waste or, for example, legislation at the level of individual member states, such as Germany or France.
"In France, for example, loi Antigaspillage requires large retailers to dedicate full fifth of their sales area for the sale of unpackaged goods in the upcoming years. Our technology is ready for implementation and to help retailers, brands, and producers to realise this transformation."
Miwa's reusable packaging system was a nominated finalist and winner under the 'Driving the Circular Economy' category at the Sustainability Awards 2020.
Last year, Lidl and Algramo conducted a six-month trial for automated liquid laundry detergent refill stations in smart HDPE bottles; and, more recently, Nestlé introduced its refillable vending machines for cereal products in Indonesia.