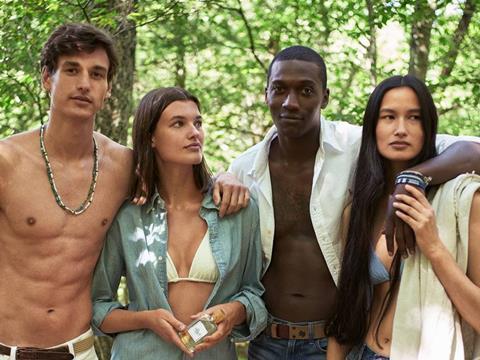 L'Oréal Group's Ralph Lauren Fragrances brand has packaged its Polo Earth vegan fragrance in a refillable bottle that reportedly incorporates 20% post-consumer recycled glass, a 55% post-consumer recycled carton, and a wood cap into its design.
Aiming to minimise its environmental impact, the pack claims to be 30% lighter than conventional Ralph Lauren Fragrance bottles. Its wood cap, label, and carton are all FSC-certified, with the brand also removing cellophane wrap from its products to cut down on plastic packaging waste.
These changes are anticipated to contribute towards Ralph Lauren's wider sustainability targets. Polo Earth itself is described as a 97% natural-origin, vegan fragrance that is free of sulphates, phthalates, artificial preservatives, or colourants. Its seven ingredients – Bergamot Heart, Diva Lavender, Green Mandarin, Turkish Rose, Sage Heart, Haitian Vetiver, and Bourbon Geranium – are apparently sourced from communities around the world.
The brand has also partnered with the Arbor Day Foundation in a bid to plant 200,000 trees worldwide and assist in reforestation efforts – particularly in the United States, Haiti, China, and Madagascar.
"Polo Earth marks an important milestone in our ongoing journey towards becoming more sustainable," says Alexandre Choueiri, global president of Ralph Lauren Fragrances. "To reach this level of sustainability in a fragrance, we had to push the boundaries by challenging our partners, our vendors, and most importantly, ourselves. We're proud of what we've accomplished, and it's just the beginning."
"Polo Earth is the latest iteration of the revolutionary work we are doing within the sustainability arena and is only the start of where we can go when it comes to creating consciously designed fragrances," adds chief Branding and Innovation officer David Lauren.
"We see a growing demand from consumers for our ingredients to be safe, biodegradable, and sourced in a way that respects the environment, and supports the communities who harvest our ingredients," perfumer Elise Bénat continues. "We take pride in being a leader in driving sustainability and being a responsible company in the industry.
"By sourcing ingredients that are highly sustainable during the development stage, I can assess the fragrance formulas according to three criteria – their intrinsic green properties, their impact on the environment, and their social impact."
"From restoration of Lemur habitats in Madagascar to the replanting of vital coastal mangroves in Haiti, these projects will help support and restore critical forests that humans, animals, and plant species alike depend on," concludes Dan Lambe, CEO of the Arbor Day Foundation. "The work we're doing in partnership with Ralph Lauren Fragrances will have lasting positive impact on these forests and the communities around them."
Stella McCartney Beauty recently worked alongside SABIC, Texen, Leygatech, and STTP Emballage to produce a series of refill containers for its STELLA Alter-Care Serum and Restore Cream products. These are thought to contain up to 90% mass-balanced certified renewable feedstock content.
Additionally, The Body Shop has created a recyclable, glue-free wooden cap for its perfume packaging in a collaboration with Pujolasos, and is also running a recycling scheme for 'hard-to-recycle' cosmetics packaging with MyGroup and Scan2Recycle.
If you liked this article, you might also enjoy:
The Lidl approach to packaging sustainability
How did Brazil achieve its 100% aluminium can recycling rate – and can it be replicated in the EU?
Experts have their say on the EU's Packaging and Packaging Waste Directive revisions
A deep dive into the most important packaging sustainability trends and solution