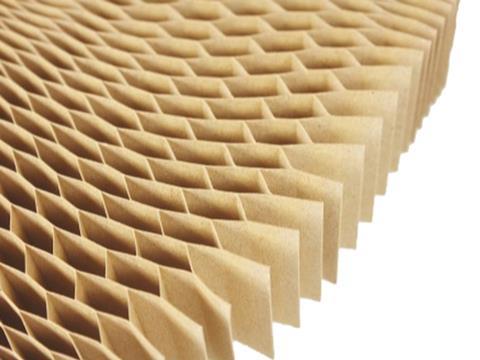 Antalis Packaging has developed what it says is an easy-to-recycle alternative to wooden shipping crates, offering a honeycomb cell design for enhanced protection for a company that requested sustainable crates for the transportation of heavy, fragile goods overseas.
According to Antalis Packaging, the customer wanted the packaging to withstand long journeys and that was easy to recycle to support the company's sustainability objectives and reduce the inconvenience for the end recipient. The customer therefore partnered with Antalis Parkside, an Antalis Packaging team based in Coventry.
Antalis Parkside's solution includes a bespoke shipping carton apparently made from PALLITE, a lightweight, paper-based material reinforced with a 25mm honeycomb cell design. The company claims it is made from more than 80% recycled materials and is 100% recyclable.
Antalis Parkside adds that, to avoid the food hot-holding units from puncturing the cardboard, the base of the box is die-cut to create a structure that will support the underneath of the unit, taking the weight off the legs.
The PALLITE cartons are up to 83% lighter than wooden shipping creates and have the capacity to hold up to 750kgs, according to Antalis Parkside. This reportedly offers "considerable" savings in shipping costs.
Antalis Parkside says that the packaging has now been used to successfully transport the hot-holding units to the USA and to a customer in Australia.
Andy Miles, key account manager at Antalis Packaging, comments: "Transporting heavy, fragile goods long distances demands really robust packaging which is why timber has traditionally been used.
"However, we are seeing increased demand for environmentally friendly packaging of all kinds, including shipping crates.
"PALLITE is the ideal solution for any business looking to ship overseas in an environmentally friendly and cost-effective way."
Companies also using a honeycomb structure to enhance product protection include Smurfit Kappa, which developed a Thermo Box for Patani Global Food that combines Hexacomb and corrugated cardboard to maintain the temperature of frozen foods during international shipping. The company also claims that this solution is "100% recyclable".
Meanwhile, Flexi-Hex's honeycomb structure "acts like an armour which forms and moulds around objects", according to Sam Boex, one of its founders. Macfarlane Packaging launched wine bottle packaging for e-commerce with Flexi-Hex technology, which it says is made from recycled materials and is biodegradable.
Additionally, Flexi-Hex last year launched a 6 Bottle Box, which incorporates a sleeve that is apparently made from 85% recycled content, curbside recyclable, and biodegradable in six weeks, which can protect premium bottles in transit. A similar Flexi-Hex solution made with Kite Packaging offers a single sleeve for bottles made with recycled paper and can, which it adds can be easily recycled after use.