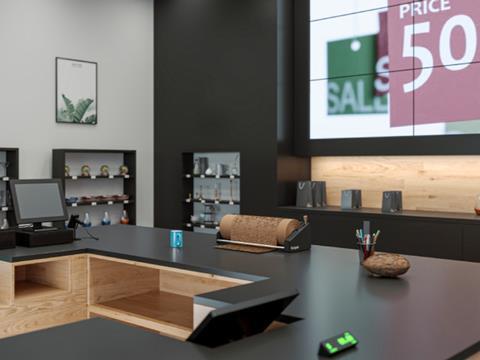 Ranpak has brought its Geami Wrap 'n Go converter, which turns kraft paper into protective, pack-in-store packaging for fragile items, to the North American market with the intention of providing an alternative to plastic solutions.
Reportedly, the solution expands the die-cut paper into a three-dimensional honeycomb structure, which locks angled paper cells together and is said to negate the need for adhesive tape and cutting. This is then applied to packaging for fragile products as an alternative to traditional plastic bubble wrap.
The Geami Wrap 'n Go itself is designed to be modular, lightweight, compact, portable, and quick to set up for in-store packaging environments. It is retail-focused and easy to use, Ranpak says, with a self-adjusting tensioning mechanism thought to ensure that the honeycomb paper is smooth and even with every use.
Intended for the home furnishings, food and beverage, omnichannel retail, and electronics industries, the converter can apparently be applied in various environments, including front-of-store, and is said to be compatible with different placements and paper throughputs.
"Geami Wrap 'n Go demonstrates our strong commitment to combining technology and design to transform protective packaging solutions," said Omar Asali, chairman and chief executive officer at Ranpak. "This latest innovation leverages modular design and portability to provide an excellent fit for low-to-mid volume applications, providing sustainable and cost-efficient protection while delivering an enhanced customer experience."
The solution is already available in the EMEA and APAC markets, and its North American launch follows that of the Geami MS Mini, which is designed for crowded pack stations.
Last year, Kite Packaging released Hivefill, a purpose-built void fill option to dispense honeycomb-structured paper wrap for cushioning inside e-commerce boxes and cartons.
Furthermore, Antalis Packaging's 'easy-to-recycle' alternative to wooden shipping crates comes in a honeycomb cell design to enhance the protection of heavy, fragile goods during international transit.
Papair's PapairWrap, a bubble wrap said to be made from 100% paper and without synthetics and adhesives, was recently launched at the company's production site in Rethem an der Aller.
If you liked this article, you might also enjoy:
McDonald's Director of Sustainability in Europe on the company's approach to packaging sustainability
McKinsey on whether or not on-pack sustainability claims affect consumer spending
Perspectives from industry-leading experts on the EU's Packaging and Packaging Waste Directive revisions
A deep dive into the most important packaging sustainability trends and solutions