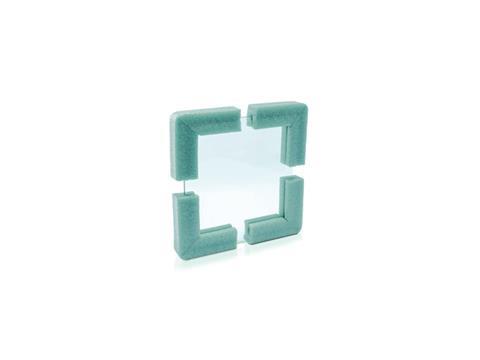 Antalis Packaging has developed new foam profiles that it says are made from 100% recycled content and are fully recyclable.
According to Antalis, foam profiles are an essential material when packaging delicate or sharp goods. However, the company says it is a challenge to find foam profiles that are both effective and sustainable, an issue it is aiming to address with its new range of profiles.
Antalis says its new foam profiles are available in an ocean green colour and provide corner and edge protection for many different applications. The flexible, shock-absorbent profiles reportedly mould around delicate edges to protect them from damage caused by knocks and drops.
The company adds that the foam profiles are also dust and odour free, leaving no residue on goods.
At the end of their use, the foam profiles are fully recyclable, according to Antalis. The company says that, as the foam profiles are made from 100% recycled content, they are exempt from the UK's new Plastic Packaging Tax.
Ian Whitcombe, packaging product manager at Antalis, comments: "We're continually working with our suppliers to source and develop new products that will help our customers meet their sustainability goals. We're delighted to add this great range of sustainable foam profiles to our portfolio – and it's another product that is Plastic Packaging Tax-exempt, so it offers cost-saving benefits to customers, too."
Another protective packaging solution from Antalis is its honeycomb cell design for a bespoke shipping carton, which it says offers enhanced protection for the transport of heavy, fragile goods overseas while being easy to recycle.