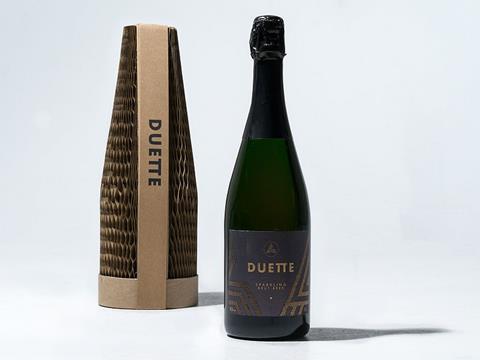 A new biodegradable packaging solution to prevent damage to glass bottles in transit is set to transform delivery for the UK drinks industry. The packaging has been created by brothers Will and Sam Boex, founders of Flexi-Hex.
"Flexi-Hex was originally created for the surf industry" explains Sam Boex "as surfers and frequent travellers we were concerned with the amount of single use plastics used in surfboard packaging and the amount of damage boards sustained in transit. We wanted to use our design skill set to create a product which was entirely biodegradable, cost effective and more reliable than plastic alternatives. The product is 100% paper bonded with water based glues."
The Flexi-Hex system, with its patent pending design and distinctive honeycomb structure, is simply cardboard but innovatively designed to add strength and flexibility, was launched at the start of 2018.
Will Boex explains "The success of the Flexi-Hex system for boards made us realise there was huge potential for the application of Flexi-Hex packaging across other industries. We conducted market research and found the drinks industry were seeking reliable plastic free packaging solutions. We developed the design, product tested it against current bottle packaging materials with some very positive results. The Honeycomb mesh provides impact resistance. The open cell honeycomb layer dissipates the direct force of the impact through the paper verticals deforming the outer structure, whilst keeping the product intact."
The UK's alcohol industry is currently worth more than £40 billion in sales according to figures from WSTA's 2018 market overview report. British wine, artisan distilling and the craft brewing industry is booming. The popularity of British products has resulted in increases in bottles being sent by post across the UK and internationally. Glass bottles in transit are particularly prone to damage and a considerable number are arriving at destination broken. Flexi-Hex's first bottle project was with Tinkture a Cornish artisan gin company who were looking for a reliable eco solution to send their unusual glass bottles.
"Everything we have done has been lovingly considered to the finest detail." says Hannah Lamiroy, founder of Tinkture. "Our organic Rose Gin is hand crafted and bottled in very unusual, old fashioned glass chemistry bottles. Our glass stopper is secured with a unique steel spring, allowing our bottles to be re-used for life. However they were proving difficult to package securely for sending. We are so excited to be working with Flexi-Hex as they have given us the peace of mind to know that when our Rose Gin arrives with our customers it will not only be undamaged but also wrapped in the most original and beautiful packaging on the market!"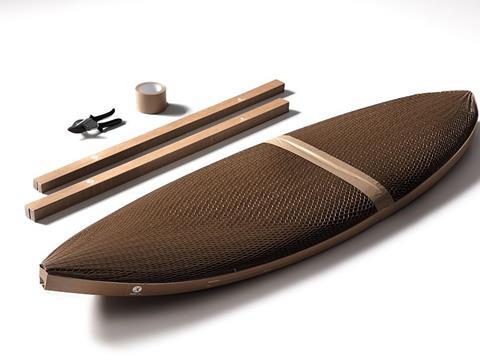 Testing has shown really positive results and Flexi-Hex feel confident the system will help prevent breakages, reduce the overall amount of packaging required and remove the need for single use plastic in bottle packaging. "The nature of the honeycomb acts like a armour which forms and moulds around objects, it expands and contracts to fit objects easily. The product comes in standard lengths in different weights and can be cut to fit any number of objects. including bottles, furniture, industrial components such as cylinders mouldings, surfboards, snowboards, glassware, ceramics," Sam Boex concludes.