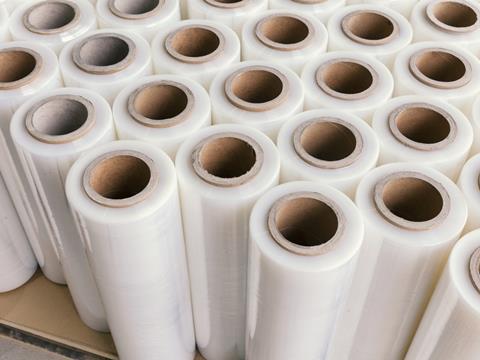 Antalis has unveiled its new range of Master'in Performance blown hand stretch film containing 30% post-consumer recycled content, aiming to reduce customers' carbon footprint and provide a more sustainable wrapping solution.
The new range reportedly features thinner gauge and high-performance films containing high-grade polymer blends available in five different categories: expert (pre-stretch), light, medium, heavy, and extra heavy. Each is thought to offer puncture resistance and superior tack in comparison to cast films.
Anticipated to be applied to heavier goods and pallets, the Master'in Performance range reportedly incorporates recycled content into each film, which exempts it from the Plastic Packaging Tax, according to Antalis.
"We're continually reviewing our product ranges to make it easier for customers to choose the right products for their business, not only in terms of product performance but also sustainability," says Ian Whitcombe, product manager for Packaging at Antalis. "While reviewing the Master'in Performance range of Blown Hand Stretch Films, we recognised there was an opportunity to address several criteria that we know are of concern to our customers.
"We're confident that customers will find the new range now ticks all the boxes; however, if a review of film use hasn't been conducted for a while, we would recommend they take advantage of our free stretchCONSULT service before making any decisions."
This time last year, DUO PLAST and BASF launched what claimed to be the first stretch film suitable for use in potentially explosive atmospheres by equipping DUO EX-TRA with the static dissipative polymer Elastostat.
Similarly, Cortec Laboratories unveiled its EcoSonic VpCl Static Dissipative Stretch Film to prevent static discharge from causing dangerous packaging conditions.
Antalis has also expanded its Master'in range with three new pallet stretch wrappers for applications of all sizes, hoping to provide customers with a range of choices at various price points.