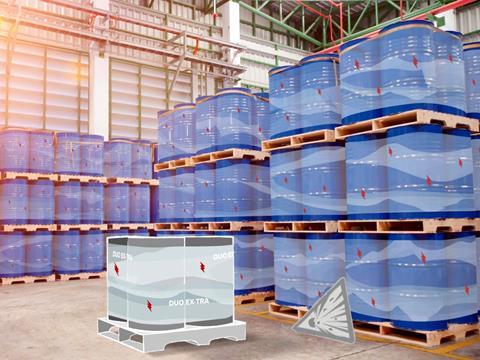 By equipping DUO EX-TRA with the static dissipative polymer Elastostat, DUO PLAST and BASF have launched the first stretch film suitable for use in potentially explosive atmospheres.
Conventional stretch films are not approved for explosive areas due to the static charge and pallets must be repacked before entering.
DUO EX-TRA, a PE blown film developed by DUO PLAST, now incorporates Elastostat, a dissipative polymer based on TPU (thermoplastic polyurethane) from BASF Polyurethanes GmbH in Lemfoerde, Germany.
Anja Oltmanns, TPU sales at BASF, explains: "Combining our additive with the film to increase conductivity was not feasible straight away. We had to both achieve the required surface resistance and maintain stretchability while at the same time considering the thinness of the film."
The film is colour-coded with red flashes, so that wrapped pallets can be identified visually to ensure their suitability for explosive areas. The companies say that stretch films with Elastostat are particularly suitable for companies in the chemical industry and their suppliers.
Nina Schnitzler, key account manager at DUO PLAST AG, adds: "The blown film produced in cooperation with BASF is unique worldwide as there has been no stretch film on the market before that was approved for hazardous areas.
"Thus, the film can be used for packaging conductive containers in contact with earth in potentially explosive atmospheres (zones 1 and 2). Removal of the foil is also permitted in the aforementioned zones."
In addition, the DUO EX-TRA film is equipped with the patented Duo Double Edge, which the companies say has "enormous" holding strength. The net structure created during processing reportedly enables optimum load unit stability with minimal material consumption.
The companies conclude that the new film offers a more efficient, sustainable, and cost-effective packaging delivery process
Earlier this year, Cortec Laboratories developed a speciality film that reportedly eliminates static discharge that can arise during the pressure and friction of stretch-wrapping, making it suitable for applications where static discharge could result in dangerous packaging conditions, such as electronics and fertilisers.