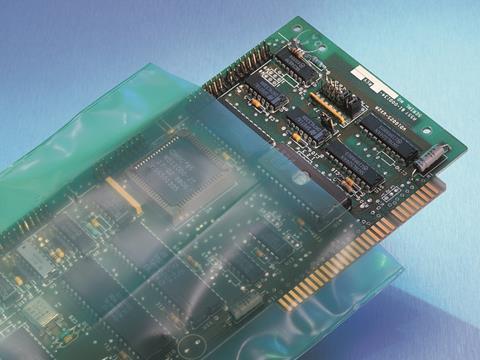 Cortec Laboratories has developed a new recyclable speciality film, EcoSonic VpCl Static Dissipative Stretch Film, for applications where static discharge could result in dangerous packaging conditions, such as electronics and fertilisers.
According to Cortec, the new stretch film meets the anti-static requirements under MIL-PR F-81705 E, while featuring multi-metal corrosion inhibitors and EDS protection. The stretch film reportedly eliminates the static discharge that can typically arise from the pressure and friction of stretch-wrapping applications, which cannot be dissipated by grounding.
In addition, Cortec says the stretch film does not interfere with electrical, optical, or mechanical surface properties and means that customers will not require costly barrier packaging.
The EcoSonic VpCl Static Dissipative Stretch Film apparently safe to handle and apply, and can be used on standard manual and automatic stretch wrapping equipment. Additionally, the stretch film offers puncture resistance and load holding, allowing a user to down-gauge and contain aggressive loads, according to the company.
Cortec adds that the stretch film is fully recyclable in applicable facilities. The company has committed to focusing on "environmentally safe corrosion protection films and bags" with a focus on safety and sustainability.
Cortec says that the stretch film is suitable for applications that dictate the absence of electrical shock, such as computers and telecommunications equipment, laboratory instruments, electrical components, marine, aerospace, and military instruments, medical devices, gun power and explosives, volatile products in controlled environments, and fertiliser plants where nitrates are present.