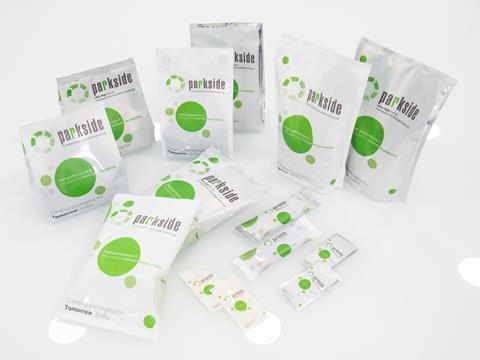 Parkside has unveiled a lightweight, mono-polymer laminated film that claims to be compatible with existing recycling streams, with the aim of replacing non-recyclable aluminium foil and PET structures.
The new laminate – available in duplex or triplex formats and a range of thicknesses – is manufactured from polypropylene substrates and can be used in place of flow wraps, bags, sachets, stick packs, pillow packs, and pouches, according to Parkside. It can be purchased with a matte or gloss finish and is apparently compatible with full-colour printing.
Its reported barrier performance against gas, mineral oil, water, light, and UV is anticipated to extend the shelf-life performance of food products, thus reducing waste in products including coffee, soup, confectionary, and condiments. The film is also thought to be applicable to toiletries, perfumes, medicines, and alcohol.
"Aluminium foils and PET laminates are very popular in flexible packaging at the minute, but they lack recyclability," said Joshua Swann, head of Technical at Parkside. "Our new mono-polymer laminate eliminates the need for these non-recyclable substrates and can be placed into the existing UK recycling stream once used.
"As a company that prides itself on driving packaging innovation, it's important that we continue to create new solutions that address flexible packaging sustainability. The development of this new laminate underlines our commitment to achieving this goal."
Antalis recently released its Master'in Performance blown hand stretch film range containing 30% post-consumer recycled content, which is anticipated to help customers lower their carbon footprints and provide a more sustainable solution for wrapping.
Meanwhile, a fully recyclable, high-barrier PE pouch, thought to have similar properties to its multi-material laminated alternatives, has also been released as a result of the value chain collaboration between ExxonMobil, Henkel, Kraus Folie, Siegwerk, and Windmöller & Hölscher.