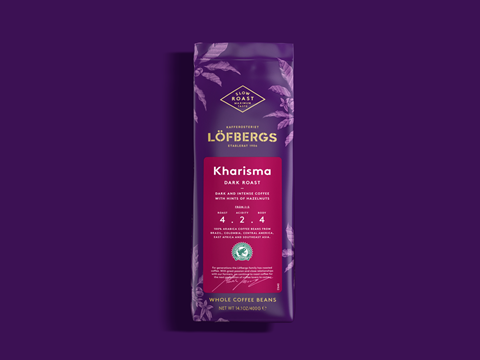 Amcor has worked alongside coffee roaster Löfbergs to launch a mono-material solution for coffee packaging – apparently suitable for both chemical and mechanical recycling and a 55% reduction in carbon footprint.
Designed in line with CEFLEX guidelines, the new pouch is certified for recyclability by the Institut cyclos-HTP and can reportedly be recycled in most European countries. It utilises Amcor's AmPrima Recycle-Ready mono-material packaging solutions while claiming to preserve the flavour and aroma of the coffee it contains.
With the companies collaborating in every aspect of the pouch's design, from the development process to testing its recyclability, the product is expected to contribute to their respective sustainability goals. While Löfbergs began phasing fossil-based plastics out of its portfolio in 2019 and has turned its attentions from bio-based alternatives to recycle-ready solutions, Amcor aspires to achieve 100% recyclable or reusable packaging by 2025.
"More sustainable packaging should not compromise on quality," said Trevor Davis, marketing director of Amcor Flexibles EMEA. "This pack responds to consumer demand for packaging that is easier to recycle, while preserving coffee's aroma at its best. Our AmPrima material was able to run at the same machine speeds as non-recyclable versions and has the potential to replace over 200 current non-recyclable coffee packaging specifications."
"This is an amazing step forward – not just for us, but for the entire coffee industry," added Madelene Breiling, head of Operational Development at Löfbergs. "The new pack has a 55% reduced carbon footprint compared to our previous coffee packaging. We will keep driving initiatives like this one and invite other players, both within and outside the industry to join us, to achieve our goal of zero waste by 2030."
An instant coffee refill pouch, said to be the first of its kind, was recently announced by Nescafé. It is said to be another recyclable solution that contains an average of 60% less plastic than the lid of a glass coffee jar.
Another flexible packaging solution from AIMPLAS has been manufactured from coffee grounds in an effort to scale up the use of urban biowaste in packaging.
If you liked this article, you might also enjoy:
McDonald's Director of Sustainability in Europe on the company's approach to packaging sustainability
McKinsey on whether or not on-pack sustainability claims affect consumer spending
Perspectives from industry-leading experts on the EU's Packaging and Packaging Waste Directive revisions
A deep dive into the most important packaging sustainability trends and solutions