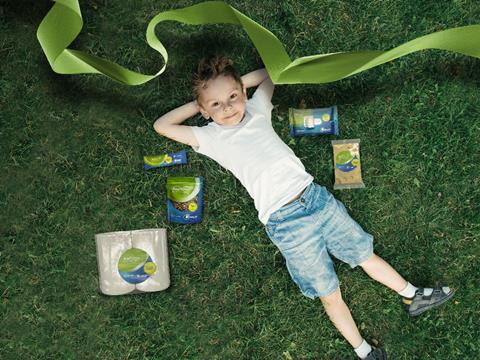 Amcor's AmPrima® range of mono-material packaging solutions was designed with the aim of replacing hard-to-recycle, multi-material options, without any compromise on performance. To find out more about this family of solutions, we spoke with Trevor Davis, Marketing Director at Amcor.
For readers who might not have heard of it before, please could you introduce Amcor's AmPrima® range?
Today, brands are looking for more sustainable packaging thanks to increased media attention, corporate commitments, and consumers' environmental concerns. According to Amcor research, more than three quarters (76%) of consumers across the US, UK, Germany, Australia, China, and Brazil find recyclability the most important sustainability attribute for packaging. They want to recycle more, and they want brands to help them. In fact, 83% want brands to make it clearer how to recycle their packaging.*
To meet this demand for more recyclability, Amcor launched a recycle-ready solutions portfolio, AmPrima®, in the United States, in 2020. AmPrima® provides options for brands who need packaging that still offers the barrier, material stiffness, seal strength, graphics performance and fast run speeds of traditional unrecyclable packaging.
The launch was a success and in August 2020, AmPrima™ received the Association of Plastics Recyclers' Responsible Innovation Acknowledgement.
In March 2022, Amcor brought AmPrima® to Europe. Coffee, dairy, snacks, and home and personal care (HPC) brands across Europe are now benefitting from more sustainable packaging with maintained production efficiency and enhanced brand appeal.
Could you break down some of the key features of the range, and give us some examples of how brands can put it to use?
Fitting a wide variety of packaging needs, the versatile AmPrima® portfolio is currently available in a range of PE and PP mono-material formats, targeting even the most demanding applications in terms of product protection, packaging convenience and runnability on packaging lines.
AmPrima® employs a variety of technologies including proprietary techniques unavailable elsewhere. This delivers the heat resistance, stiffness, clarity, graphics performance and run speeds that brands demand, matching the performance of current unrecyclable alternatives in the vast majority of cases.
For example, AmPrima® PE Plus for roast and ground coffee is suited for all typical coffee pack formats and sizes, and is available with both lock/seal and peel options to protect freshness and aroma. According to our analysis, it has the potential to replace over 200 current non-recyclable coffee packaging specifications.
AmPrima® solutions for cheese are also available in a variety of formats including flow wrap for hard cheeses, pouches for grated, and even flow-packs for leak-prone cheeses such as mozzarella. This allows brands to choose a full PE solution with robust product protection, that fits the requirements of most European PE recycling streams.
In terms of placing this innovation into the context of the overall European flexibles recycling landscape – how can AmPrima® be disposed of post-use?
AmPrima® is recycle-ready in most flexible PE and PP packaging recycling streams. Additionally, it has a lower carbon footprint than many of the packaging structures it replaces, helping brands to meet their sustainability goals.
The AmPrima® recycle-ready range is designed according to CEFLEX guidelines for circularity and certified by cyclos-HTP for recyclability in the real world.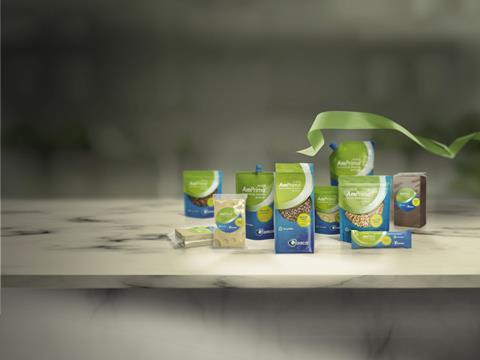 Before its European launch in early 2022, AmPrima® had been available on the US market for some time. How have consumers and brands responded to the product thus far?
AmPrima® products are designed to be compatible with PE film recycling streams in the U.S. They can deliver as much as a 60% reduction in non-renewable energy use over equivalent non-recyclable options and offer as much as a 46% reduction in carbon footprint and an 18% reduction in water consumption. **
AmPrima™ PE Plus recycle ready solutions with heat-resistance also meet the Association of Plastic Recyclers (APR) responsible innovation requirements.
Many bottled beverage American producers have chosen Amcor's AmPrima™ recycle ready polyethylene (PE) shrink film for multi-packs, over corrugate and paperboard because it uses less energy and lowers greenhouse emissions in the distribution channel, without compromising run speeds and machinability.
Recently, a bottled beverage producer asked Amcor for help to improve the sustainability metrics for their shrink film —adding 30% PCR content was the solution. AmPrima™ films with PCR content still maintain recyclability through the same U.S. drop off schemes, but the benefits multiply to provide a more sustainable package. By closing the loop, the brand improved its sustainability impact with a 24 % reduction in non-renewable primary energy demand, 10 % carbon footprint reduction and 12 % less water consumed. Amcor supported the producer in obtaining How2Recycle® labelling, helping to provide an additional brand connection for sustainability-focused consumers.
Let's look ahead – is AmPrima® suited for the future of packaging sustainability?
AmPrima® is designed to be a more sustainable choice today, and is future-ready for more environmental benefits to come. Using ASSET™, Amcor's in-house life-cycle assessment tool certified by The Carbon Trust, we can compare the performance of our AmPrima® recycle ready films, against a typically-used equivalent solution.
For example, a coffee customer that switches from a PET/Alu/PE structure to an AmPrima® PE-based soft pack can benefit from an up to 73% carbon footprint reduction, a 68 % reduction in non-renewable primary energy usage and an 85% reduction in water consumption. The plastic reduction compared to similar standard coffee soft packaging currently on the market in Europe is between 15 and 20%.
The PE and PP recycling streams for flexible packaging in Europe will continue to evolve. AmPrima® solutions are suited to both mechanical and chemical (advanced) recycling. Switching to AmPrima® today means brands are future-ready for more environmental benefits tomorrow as the recycling industry develops.
* In conducting the market research published alongside this report, Amcor surveyed 2,000 respondents in each of the U.K., the U.S., Germany, Australia, China and Brazil online between Oct. 27, 2021 and Nov. 9, 2021.
**According to results of Amcor's ASSET™ Life Cycle Assessment tool.
This content was sponsored by Amcor