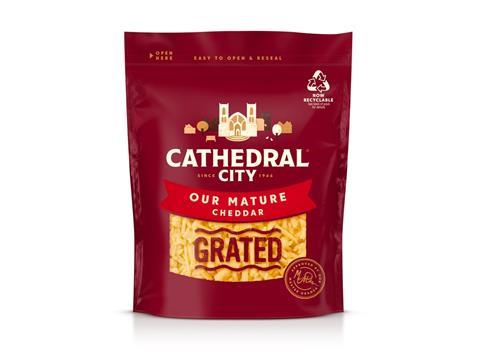 Amcor and Saputo Dairy UK's recycle-ready flowpack for Cathedral City grated cheese – thought to reduce the carbon footprint of its previous pack by 47% – was named 'Flexible Plastic Pack of the Year' at the UK Packaging Awards 2023.
The pack was designed in accordance with CEFLEX guidelines and is certified as recyclable by the cyclos-HTP institute. Made with mono-PE AmPrima from Amcor, it can be recycled with bags at large supermarkets or via the TerraCycle Cheese Packaging Recycling Programme, which is available at various places in the UK.
A survey from Amcor previously suggested that 70% of European consumers consider effective sealing the most important feature of cheese packaging; as such, the new Cathedral City packaging features an easy-close zip function to preserve the product's freshness and cut down on food waste.
The solution contributes to Amcor's portfolio of recycle-ready packaging – constituting 80% of its global flexible packaging range – as well as its pledge to ensure all its packaging is recyclable or reusable by 2025.
Yi Jiang, marketing director Dairy at Amcor, said: "The collaboration between both companies addresses some of the biggest challenges facing cheese manufacturers – how to switch to more sustainable packaging that can run on high-speed production lines, while maintaining the same level of product protection and shelf life. Our AmPrima solution runs on Saputo Dairy UK's existing filling machines, enabling a seamless transition to a more sustainable alternative."
"The switch to the new recycle-ready packaging marks a significant milestone for Saputo Dairy UK and the nation's favourite cheese brand," added Neil Richards, packaging controller at Saputo Dairy UK. "We'll continue to strive to offer award-winning solutions like this one in order to progress on our commitment to making 100% of our packaging reusable, recyclable or compostable."
Another cheese-related development saw the GO ORLEANS research project develop an active packaging solution from whey – apparently extending the shelf life of cheese by five to ten days while reusing a pollutive by-product of cheese manufacture.
SÜDPACK and Arla Foods have also joined forces to chemically recycle maturing bags for mozzarella cheese in a circular business model that aims to lessen fossil feedstock consumption and reduce its CO2 footprint.
If you liked this article, you might also enjoy:
The L'Oréal approach to packaging sustainability
What steps is Apple taking to make its packaging more sustainable?
How did Brazil achieve its 100% aluminium can recycling rate – and can it be replicated in the EU?
Experts have their say on the EU's Packaging and Packaging Waste Directive revisions
Also, if you're interested in packaging sustainability, you will want to attend our Sustainable Packaging Summit in Amsterdam on 14-15 November. The Summit brings together leaders and pioneers from across the industry to align strategically, learn, network, and create a critical mass to accelerate change. You can learn more by clicking here, and you can buy a ticket to attend here.