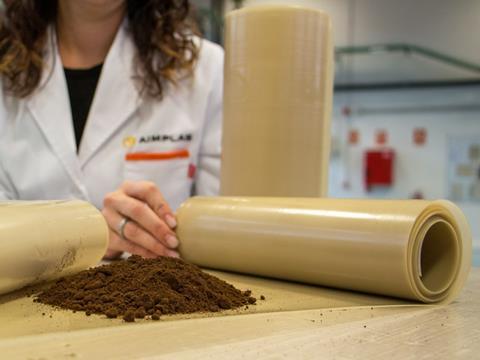 AIMPLAS, the Plastics Technology Centre, has manufactured a plastic film from used coffee grounds to be used in flexible packaging applications in the wider pursuit of converting urban biowaste at scale.
To produce the film, AIMPLAS obtained PHA from restaurant coffee grounds sourced and recycled by bio-bean. This PHA was then formulated and extruded into a flexible material.
The endeavour contributes towards the WaysTUP! Project, which is financed by the Horizon H2020 programme and seeks to promote the importance of urban biowaste as a resource amongst local communities and create new value chains to utilise it at an industrial scale. The project has also reprocessed waste from fish, meat, and cooking oil into new biobased products, including bioethanol, biosolvents, food additives, condiments, and insect protein.
"WaysTUP! is a clear example of how biowaste can play an important role in the transition towards a circular economy by avoiding biowaste generation and harnessing its potential as a source of high-value secondary resources," says Nuria López, principal investigator of the WaysTUP! Project at AIMPLAS. "In our case, we're transforming coffee waste into plastic film for packaging. Meanwhile, other project partners, such as SAV – Agricultores de la Vega de Valencia, are project coordinating partners responsible for recovering waste to produce food additives, feed and oils for the food and cosmetic industries."
Other organisations involved in the project include Universidad de Alicante, Nafigate Corporation, Biosense Institute, and Fundación CIRCE Centro de Investigación de Recursos y Consumos Energéticos, with a total of 26 research centres, local authorities, companies and city networks making their own contributions.
In another recent development for biobased flexibles, KM Packaging unveiled its C-Cling cling film, which claimed to be both renewably sourced and home-compostable. It is thought to be particularly useful when applied to compostable trays.
AIMPLAS also announced that its reactive extrusion pilot line is now compatible with bio-based nanomaterials in the production of food packaging and agricultural solutions.
Additionally, Maria Negut, head of EU Affairs at European Bioplastics, told Packaging Europe that around 100 million tonnes of biowaste are not collected every year – suggesting that an industrial shift towards bioplastics and compostable materials could create 20,000 jobs in the waste management sector, as well as reducing CO2 emissions.