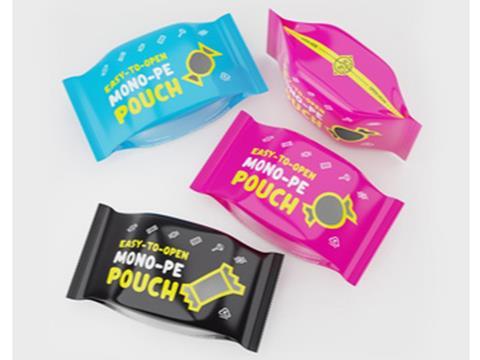 In collaboration with Rovema, Walki has developed a new pouch concept that claims to be an easy-to-open and recyclable solution to package nuts, chocolate, dried fruit, and other snack products.
Apparently, the pouch is made of a newly developed, LDPE-based film with a laminate of an MDO-PE film. Its mono-material design makes it compatible with the PE recycling stream, Walki states.
The opening begins with laser preformation in the centre of the bag's side gusset fold. This controlled weakening of the laminate is thought to enable the pack to be opened in a controlled way – preventing the need for excessive force, complete breakage of the film, and damage to the contents that can occur with conventional, sturdier plastic pouch solutions.
Walki's pouch is reportedly thin enough to tear but thick enough to protect the product. It opens from the centre and continues to tear in both directions until it reaches the transverse cross seams, which are designed to keep the pouch stable.
Andreas Rothschink, head of Product Development and Technical Service, Consumer Packaging (Business Area) at Walki Group, explains: "We set out to innovate a pouch that consumers can open in a controlled and easy way.
"You can open the pouch completely without destroying the shape. The large opening makes it easy to remove the snacks from the pouch."
Another designed-for-recycling, mono-material pouch made of 95% polypropylene has been released by Borealis and is set to package dry food products.
In a first for the company, Ella's Kitchen has rolled out a mono-material pouch. Its overall goal is to transition 73% of its baby food pouches into fully kerbside-recyclable material by the end of 2024.
Amcor and Löfbergs also sought to offer a 55% reduction in carbon footprint and compatibility with both chemical and mechanical recycling with their mono-material coffee pouch.
If you liked this article, you might also enjoy:
The Lidl approach to packaging sustainability
How did Brazil achieve its 100% aluminium can recycling rate – and can it be replicated in the EU?
Experts have their say on the EU's Packaging and Packaging Waste Directive revisions
A deep dive into the most important packaging sustainability trends and solution