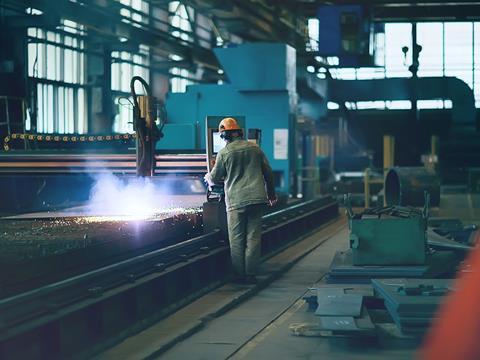 According to Aluminium Deutschland, German aluminium production fell in the third quarter of 2023, with the production volume of primary aluminium almost halving.
Reportedly, raw aluminium production fell by 8% and reached approximately 774,000 tons in the third quarter. Output is calculated at around 2.3 million tons, or -11%, after the third three quarters.
Compared to the period from January to September 2022, the production of primary aluminium fell by around 40% within the same time frame in around 2023. Around 147,000 tons were produced – whereas the same period in 2021 resulted in 391,000 tons.
A significant decline was also recorded for semi-finished aluminium products at -8%, or almost 607,000 tons, in Q3. For extruded products, the decline reached -17%, and rolled products went down by -6%.
In the first three quarters of the year, a total of 1.8 million tons of semi-finished products, or -10%, were manufactured in Germany.
"It makes me think – when three-quarters of our industry currently assesses the competitiveness of Germany as an industrial location as low or very low – this is what the survey that we regularly carry out in the association says," president Rob van Gils emphasized. "For the vast majority, energy prices remain the most important issue.
"Many also expect further tension on the energy markets in the winter months. At the moment, we don't see any light at the end of the tunnel.
"Aluminum remains one of the important pillars of transformation. Demand will increase significantly in the medium and long term. However, we are currently being hit hard by the economic headwinds – in addition to high energy prices.
"As a basic industry, we supply to many sectors of the economy. Orders have literally collapsed, particularly in the construction industry. But demand is also weakening in the very important automotive sector."
Last year, van Gils spoke to Packaging Europe about his outlook for the aluminium industry in the European energy crisis – calling upon political players to intervene.
More recently, Aluminium Deutschland stated that Germany's aluminium sector is 'still in crisis mode', even as the European Parliament adds aluminium to its list of strategic raw materials in the Critical Raw Materials Act.
However, AEROBAL previously reported that its members' global shipments of aluminium aerosol cans increased by 6.6% to just over 3.2 billion units in the first half of 2023.
If you liked this article, you might also enjoy:
The L'Oréal approach to packaging sustainability
What steps is Apple taking to make its packaging more sustainable?
How did Brazil achieve its 100% aluminium can recycling rate – and can it be replicated in the EU?
Experts have their say on the EU's Packaging and Packaging Waste Directive revisions
Also, if you're interested in packaging sustainability, you will want to attend our Sustainable Packaging Summit in Amsterdam on 14-15 November. The Summit brings together leaders and pioneers from across the industry to align strategically, learn, network, and create a critical mass to accelerate change. You can learn more by clicking here, and you can buy a ticket to attend here.