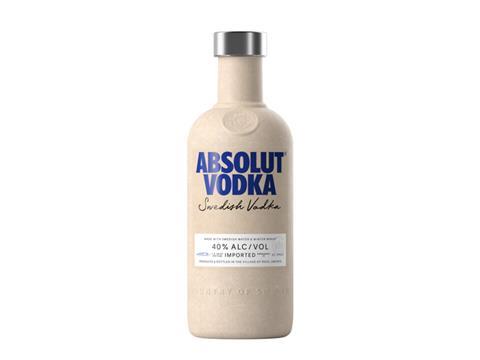 Absolut Vodka has announced a new bottle made from 57% paper with a plastic lining, which it is describing as the latest stage of its journey towards creating a '100% bio-based bottle' in the future.
The bottle initiative is part of a wider collaboration with Paboco (the Paper Bottle Company) and its community of global brands, The Coca-Cola Company, Carlsberg, P&G and L'Oréal.
It is important to note that, at this point, the construction of the bottles is 57% paper, with an integrated barrier of what Absolut describes as "recyclable plastic". According to the company, customers can recycle the packaging "as paper" through normal household waste.
This is the first time bottles like this will have been sold commercially in-store by a global spirits company, and follows previous tests by Absolut at festivals in the UK and Sweden.
The trial aims to gain insights from consumers, retailers and supply chain partners to inform the next steps on Absolut's journey towards a commercially viable, fully bio-based bottle. Absolut will test how the bottle transports and how consumers perceive it. Unlike the initial pilots which were for Absolut Mixt ready-to-drink, which had low ABVs (5%), this bottle will be tested using the higher 40% ABV of Absolut Vodka.
The 500ml-sized single-mould bottles will be sold in 22 Tesco stores (RRP £16) across Greater Manchester throughout the summer. On LinkedIn, Paboco's commercial director, Michael Michelsen, said that Manchester had been chosen "since this region has the recycling in place to work with both paper and barrier."
In a further comment, Michelsen spoke more about the plastic barrier: "For this product we used a PEN polymer for the barrier as it serves two good properties: Good properties for the Absolut Vodka [and it] can enter paper mills without polluting recycling streams. In our Next Gen bottle (future version) we're looking to start with HDPE in much smaller amounts so it's known to the paper recyclers."
The company says that its paper bottles are eight times lighter than the glass alternative, while also being easier to carry. The paper bottles retain the brand's apothecary-inspired design, and the end goal is for them to complement Absolut's glass bottle, rather than replacing it. Absolut believes consumers will use the paper bottles in out-of-home occasions such as festivals.
Elin Furelid, Director of Future Packaging at Absolut, said: "This is a step closer towards our vision of a fully bio-based bottle. We are exploring packaging that has a completely different value proposition. Paper is tactile; it's beautiful; it's authentic; it's light. That was our starting point. But this is not just an idea on paper."
Absolut Vodka says that it is on track to be a carbon-neutral product by 2030, with its distillery reportedly emitting 98% fewer emissions than the average distillery. In November last year, it announced its initiative with Ardagh Glass Packaging to start using a partly hydrogen energy-fired glass furnace for large-scale bottle production. The announcement on this particular iteration of the bottle does not go into specifics regarding CO2 emissions, however.
Paboco says that the next step on this journey will be the creation of a 'Next-Gen paper bottle' – which is slated to contain a minimum of 85% paper.
If you liked this article, you might also enjoy:
McDonald's Director of Sustainability in Europe on the company's approach to packaging sustainability
McKinsey on whether or not on-pack sustainability claims affect consumer spending
Perspectives from industry-leading experts on the EU's Packaging and Packaging Waste Directive revisions
A deep dive into the most important packaging sustainability trends and solutions