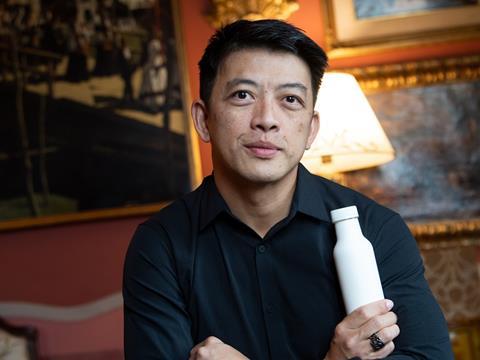 RyPax and CelluComp have unveiled what is said to be the first all-fibre bottle solution with a biodegradable and plant-based inner coating and hope to 'crack the code' on paper-based bottle packaging.
CelluComp's Curran, a microfibrillated cellulose product sourced from the root vegetable product waste stream, has been implemented into a novel pulp fibre alongside bamboo and bagasse. Apparently resulting in a strong material with low porosity, the pulp is applied as a thin coating to the inside of the bottle as a replacement for a plastic liner.
With the Danish Technological Institute (DTI) recently validating the companies' all-fibre bottle format, it is anticipated that the solution will benefit the beverage, beauty, health, medicine, food, and wider retail industries – reducing waste and meeting consumer, government, and internal sustainability targets.
RyPax and CelluComp now plan to partner with DTI and develop further fibre packaging solutions, including fibre screw threads, caps, thinner coatings, and more intricate branding options for fibre-based bottles.
"Integrating RyPax's and CelluComp's proven technology, materials and production expertise to produce the industry's first all-fibre bottle at scale is a major evolution for the industry," said Christian Kemp-Griffin, CEO of CelluComp. "Our unique capabilities and entrepreneurial approach, including establishing a Minnesota-based Public Benefit Corp. to better serve U.S. operations, has finally produced a design most packaged goods companies, and their consumers, have been longing for."
"Combining our global expertise in fibre packaging design and production, with CelluComp's creative ingredient solution, we're looking at true barrier packaging breakthrough," continued Alvin Lim, CEO of RyPax. "This initiative will remove millions of tons of plastic waste from the environment."
Alexander Bardenstein, business development manager with DTI, added: "This collaboration and design is something the industry has been waiting to see for a very long time and we're excited a solution is now available. The RyPax/CelluComp bottle has been through all of our comprehensive testing to earn our endorsement and allows them to start tailoring this technology for the global marketplace."
Absolut Vodka is currently pursuing the creation of a '100% bio-based bottle' and has recently revealed a bottle made from 57% paper with a plastic lining.
Similarly, SUPA's eco-mate brand revealed a 'plastic-free' paper bottle for laundry and washing up liquids last year in an effort to tackle the overconsumption of single-use plastic; and Packaging Europe spoke to Jerry Porter, senior vice president of R&D for Global Fabric & Home Care Sector at P&G, about its work with Paboco to work towards a 'fully recyclable' paper-based bottle.
If you liked this article, you might also enjoy:
The Lidl approach to packaging sustainability
How did Brazil achieve its 100% aluminium can recycling rate – and can it be replicated in the EU?
Experts have their say on the EU's Packaging and Packaging Waste Directive revisions
A deep dive into the most important packaging sustainability trends and solution