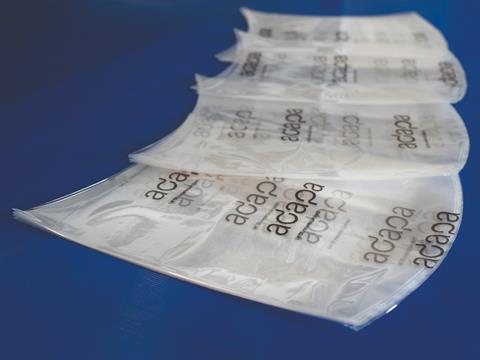 adapa Group has invested in two new lines for high-performance shrink bags at its St. Helens plant in a bid to increase its supply chain agility and offer a wide capacity of shrink bags to its customers.
The new lines can process shrink bags between 200mm and 1050mm in width and 100mm and 2000mm in length. A variety of configurations are available, including straight or round bottom seals and loose or as perforated on wheel (POR) formats.
According to adapa Group, shrink packaging offers efficiency, protection, and quality preservation throughout its life cycle and across a product's value chain due to its thin consistency and multiple layers. As such, it can apparently serve as high-barrier ripening packaging for such products as meat and cheese.
Furthermore, it is said to offer good printability for manufacturers and clear visibility for consumers, which enables both branding and presentation opportunities.
In an automated process, the bags are opened, filled, vacuumed, sealed, and shrunk within the machine. Robots are becoming an increasing popular option for filling the pouches, and this level of automation is reported to have doubled packing speeds in recent years, as well as increasing the cycle rate (packs/minute).
This high-speed process leaves less time for packs to be sealed, as well as requiring an appropriate mechanical streams and reliable sealing seams from the shrink bags themselves. adapa Group states that sealing media and shrink bag materials have been adapted to meet these needs, but warns that the process can be more difficult for soft products that vary in size, such as fresh meat.
Nevertheless, the company aims to balance product performance and material usage – claiming that a cheese wheel weighing around 3.5 kilograms only requires around 12 grams of shrink bag to create effective ripening packaging.
One line has been operating since the beginning of April, while the second is scheduled to begin production at the end of May.
adapa Group's PE-based, food-contact shrink bag, VACUshrink(re) MEX 55, was awarded the PackForFuture Award in the Design for Recycling category at this year's interpack.
Alternative solutions have sought to replace shrink wrap altogether, from Mondi's Hug&Hold – a solution that wraps and transports PET beverage bottles in recyclable paper – to DS Smith and Krones' ECO Carrier, a similar fibre-based solution.
If you liked this article, you might also enjoy:
McDonald's Director of Sustainability in Europe on the company's approach to packaging sustainability
McKinsey on whether or not on-pack sustainability claims affect consumer spending
Perspectives from industry-leading experts on the EU's Packaging and Packaging Waste Directive revisions
A deep dive into the most important packaging sustainability trends and solutions