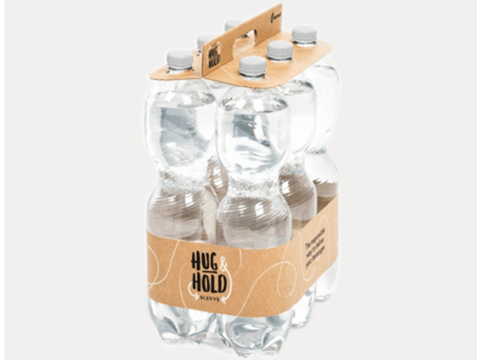 Mondi has created a recyclable paper packaging solution to wrap and transport PET beverage bottles, which it says can replace plastic shrink wrap.
The company claims Hug&Hold is a recyclable 100% paper-based solution, comprised of a kraft paper sleeve and a corrugated clip. It says the product (designed to replace plastic shrink wrap for PET bottle bundle packs) has been validated for automated packing processes.
According to Mondi, Hug&Hold comprises two elements that provide secure and safe transportation as well as the stacking of bundles of bottled drinks. The first element is a patent-pending sleeve made of 100% kraft paper that wraps around the bottles to hold them securely.
Made from Advantage SpringPack Plus, it allegedly offers high tensile strength and can withstand enough weight to strap and stabilise the bottles during transportation. The second element is a corrugated clip which holds the bottles around the neck. The company add that an optional integrated handle means a bundle of bottles can be carried and transported easily.
Mondi claims it is first to manufacture and market a complete concept with Hug&Hold, providing a solution made from renewable and fully recyclable materials, suitable for existing paper waste streams throughout Europe.
The team worked with Krones, a global acting specialist in packaging automation technology, to ensure that Hug&Hold can pack bottles in a fully automated process with the latest Krones' machines. Apparently, Krones offers options to upgrade its existing machinery, allowing the option to switch to Hug&Hold as a sustainable alternative.
Tarik Aniba, sales and marketing director of corrugated solutions at Mondi, adds: "A sustainable, functional and fully automated alternative to plastic shrink wrap means that brand owners can safely switch to a recyclable paper-based packaging solution, without any risk to their product or logistics."
Last month, Mondi opened a new laboratory in Austria to test the recyclability of its paper-based products and determine how they will perform in large-scale recycling mills. Earlier in August, it also announced a collaboration with Essity and Dow to produce recycled secondary packaging for Essity's feminine care line.