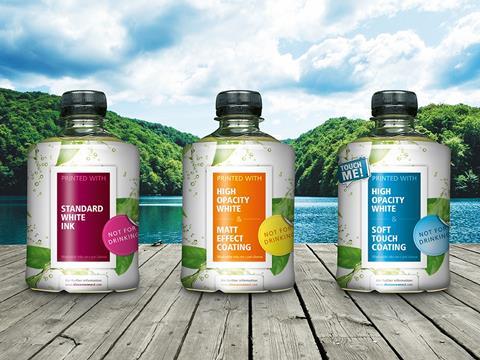 EMSUR, Siegwerk, Karlville, and SK microworks have developed a CPET shrink sleeve label for colourless rPET bottles – seeking to create a fully recyclable packaging solution and enhance shrink sleeve technology under the collaborative #SleeveConnect project.
Produced by start-up BTC Concept, the colourless rPET bottle features a high opacity white CPET sleeve printed with washable inks – a mono-material combination said to facilitate easy recycling for the whole bottle. The sleeve intends to give the pack a more visual "body" and provide branding opportunities; in turn, the bottles are anticipated to result in high-quality recyclate and contribute towards a circular economy for plastics.
A range of finishes, including Soft Touch and Matt Effect, are available for the sleeve. It is also designed for compatibility with other developments in the recycling process, such as digital watermarks for sorting detection technologies.
SK microworks provides the CPET shrink film, which is processed by EMSUR, printed with washable inks and coatings from Siegwerk, and processed on Karlville machinery.
The #SleeveConnect project is being launched at the Karlville booth at LabelExpo Europe 2023. The production process for the new bottles will also be on show.
Last year, EMSUR developed a range of PET-based shrink sleeve solutions for bottle drinks. Utilising washable inks, the ECOEM-Sleeves intend to prevent the contamination of waste streams and improve recyclability.
adapa Group has also invested in two new lines for high-performance shrink bags at its St. Helens plant, hoping to optimise the agility of its supply chains and provide its customers with a wide capacity of shrink bags.
In other news, Siegwerk is a finalist under the commercialised Recyclable Packaging category at this year's Sustainability Awards with its printable CirKit ClearPrime delamination and deinking primers. These are set to improve recyclate quality and broaden its application scope to high-performance film segments.
If you liked this article, you might also enjoy:
The Lidl approach to packaging sustainability
How did Brazil achieve its 100% aluminium can recycling rate – and can it be replicated in the EU?
Experts have their say on the EU's Packaging and Packaging Waste Directive revisions
A deep dive into the most important packaging sustainability trends and solutions