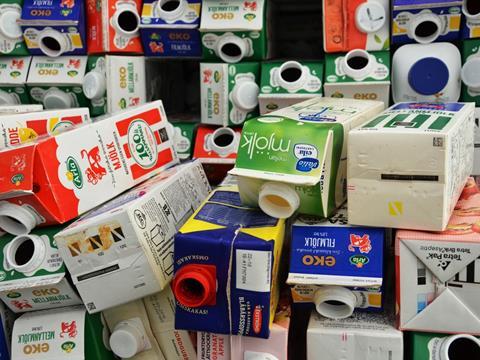 The Alliance for Beverage Cartons and the Environment (ACE) has called for additions to be made to the EU's Packaging and Packaging Waste Regulation, including a 90% mandatory collection target and input from industry players regarding Design for Recycling guidelines.
ACE clarifies that the beverage carton industry supports the ambitions of the European Commission's Roadmap to 2030 and Beyond, in which all packaging should be recyclable and/or reusable by 2030.
However, it is pushing for the addition of a 90% mandatory collection target to create the appropriate conditions for ensuring that beverage cartons can be recycled at scale by 2035. Implementing such a target would facilitate a reliable waste stream, according to ACE, which in turn would encourage investments in recycling infrastructure and technologies.
Furthermore, proposed legislation sets recycled content targets for contact-sensitive packaging at 10% by 2030 and 50% by 2040. ACE states that, while it is eager to implement recycled plastic into its cartons when available at an economically viable price and with the relevant food safety accreditations, recyclate that meets these standards is not yet available at scale.
The Alliance is cautious that ambitious recycled content targets will worsen the market availability of such materials, and suggests holding off from implementing them until the materials are more widely available – suggesting the introduction of an equivalent target for biobased and renewable plastics to relieve some of the demand without hindering sustainability efforts.
ACE also encourages the European Commission to mandate the European Committee for Standardization (CEN) to develop the Design for Recycling Guidelines or create a stakeholder/industry advisory body to assist in the development of the delegated acts; and asserts that microbiological sensitive products should be exempt from reuse targets, since products that cannot maintain their hygienic and nutritional qualities through the addition of preservatives must be packaged in aseptic materials.
Following backlash from a leaked draft of new revisions to the Packaging and Packaging Waste Directive, the European Commission announced its new sustainability targets in November 2022, aiming to prevent a 19% increase in packaging waste by 2030.
Various industrial players had expressed their reservations about the new rules, including UNESDA Soft Drinks Europe, The European Fruit Juice Association (AIJN), The Brewers of Europe, and Natural Mineral Waters Europe, who feared that mandatory reuse targets for beverage containers could be 'discriminatory' and cause harm towards smaller businesses and recycling facilities.
ACE previously revealed its own recycling guidelines, which included the same 90% collection rate that it is suggesting that European Commission implement, as well as a 70% recycling rate and the increased replacement of plastic with fibre.