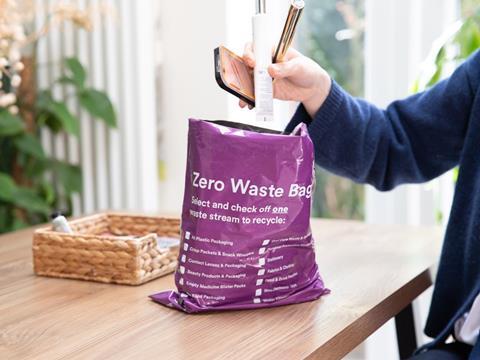 TerraCycle is launching its Zero Waste Bag for 'hard to recycle' products such as crisp packets and cosmetic packaging. Once filled, the bag can be returned to TerraCycle to process the waste into new materials for reuse in an effort to keep recyclable materials away from landfill and incineration.
The Zero Waste Bag is designed to capture waste from fourteen common streams that are not yet collected through kerbside recycling in the UK. This includes plastic packaging, crisp and snack packets, cosmetic products and packaging, and medicine blister packs.
According to TerraCycle, councils are not currently accepting these materials for recycling due to their complexity and the resultant process costs, which are often higher than the value of the recycled material.
With the Zero Waste Bag, consumers can bag their waste and request a QR code from the TerraCycle website to send the contents to TerraCycle. Full bags can be deposited at one of over 5,000 24/7 InPost Lockers throughout the UK, often appearing at train stations, petrol forecourts, and supermarkets; this is intended to incorporate bag disposal into consumers' daily routines and optimise convenience.
Consumers can purchase the bag through its website, through which they can specify their desired waste stream. Available at £25 for a small bag and £39 for a large one, its price covers the cost of delivery to the consumer's home address, the return of a full bag via InPost, and TerraCycle's processing of the waste into a reusable material to be incorporated into new products. Discounts are available for bundle purchases.
The announcement follows the Government's release of recycling rates in the UK, in which it was revealed that Wales is the only UK nation with a recycling rate of above 50%. By contrast, TerraCycle cites new research suggesting that 62% of British respondents are frustrated by the number of items their local councils do not accept for recycling collections; 62% report their desire to become zero waste, and 19% admit to 'wish-cycling', or placing an item in their recycling bin even if their local council does not accept it.
"Many members of the public have expressed their wish to be able to recycle more and have been asking for a solution such as Zero Waste Bag to recycle many items not accepted via council collections," explained Julien Tremblin, general manager of TerraCycle Europe. "The bags have been designed to represent the perfect solution in terms of ease and practicality for the public, and we're excited to announce their launch."
Peter Blackburn, international commercial director at InPost Group, added: "We're thrilled to be partnering with TerraCycle to support the country's recycling efforts through our expansive network of lockers. Convenient delivery options are critical to ensuring consumers have access to straightforward recycling options, and our lockers do just that. Our vision, as InPost Group, is to lead sustainable e-commerce by redefining the status quo for deliveries and returns, enhancing value, convenience, and sustainability."
"At WRAP we are delighted to see that citizens will have the option and opportunity to be able to recycle more of these hard to recycle items, should they wish to do so," commented senior sector specialist Adam Herriott. "However, we need to continue to work on ways to eliminate the problematic and unnecessary packaging and design materials with end of life in mind - this includes how and where consumers can easily and responsibly dispose after use."
Last year, TerraCycle worked alongside Evreka to optimise collection operations across its waste streams using waste management technology and real-time data.
Borealis and Ecopost recently sought to scale up the collection and recycling of plastic waste in Kenya through the formalisation of collection processes, amongst other developments.
On a broader scale, the Alliance for Beverage Cartons and the Environment (ACE) has suggested that a 90% mandatory collection target be added to the EU's Packaging and Packaging Waste Regulation to encourage investments in recycling infrastructure and technologies and ensure that beverage cartons can be recycled at scale by 2035.
If you liked this article, you might also enjoy:
McDonald's Director of Sustainability in Europe on the company's approach to packaging sustainability
McKinsey on whether or not on-pack sustainability claims affect consumer spending
Perspectives from industry-leading experts on the EU's Packaging and Packaging Waste Directive revisions
A deep dive into the most important packaging sustainability trends and solutions