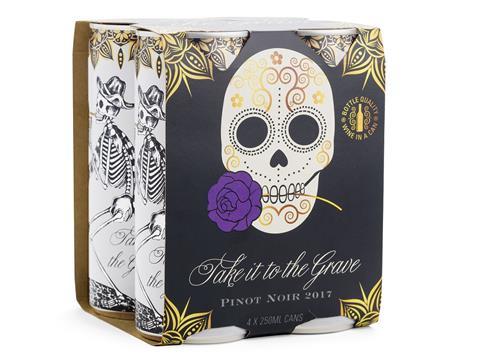 A collection of 250ml canned wines from Fourth Wave Wine launches with design and strategy by drinks design agency Denomination.
Fourth Wave Wine has one of Australia's most dynamic portfolios of modern wine brands and a reputation for innovation, so Denomination ensured that the strong brand personality of its bottled ranges translated successfully to a slimline can that works in 360-degree format, within the restrictions of can printing.
The design emphasises the quality of the collection to show consumers that canned wine is as high in quality as bottled wine. It also helps consumers and trade to understand the portion-control benefit of canned wine.
Communicating quality
Rowena Curlewis, CEO, Denomination, says: "Canned wine is a relatively new concept and Fourth Wave Wine needed to communicate the benefits of the form change as well as the quality of the product inside."
Silver and gold foiling is used throughout the design of the cans to communicate quality. The premium cues used to illustrate the wines' attributes, such as medals and tasting notes, replace the usual outdoor and on-the-go messaging associated with cans to encourage consumers to think about canned wine as a way to drink less at one sitting and help prevent wastage.
Conventional 750ml wine bottles are often too big, potentially leading to drinking beyond consumers' original plans and excess wine being poured down the drain. The 250ml format, which is still a relatively limited sector, addresses this problem.
Curlewis adds: "So far we have had a really positive response to our work with Fourth Wave Wine on its cans, which is very encouraging. We look forward to seeing how they are received by consumers and how they fare among the growing number of products that are changing perceptions of how wine should be packaged."
Nicholas Crampton, Fourth Wave Wine founder, says: "Denomination's designs have communicated each individual brand personality on to a different format beautifully and we are very pleased with how their work has been received so far."
The brands turned into the four-can cluster format include Le Chat Noir from France, Hootenanny Sauvignon Blanc from New Zealand, Take it to the Grave Shiraz and Pinot Noir from Australia, Elephant in the Room Pinot Noir and Chardonnay from Australia and Mascareri Prosecco from Italy.
More info: