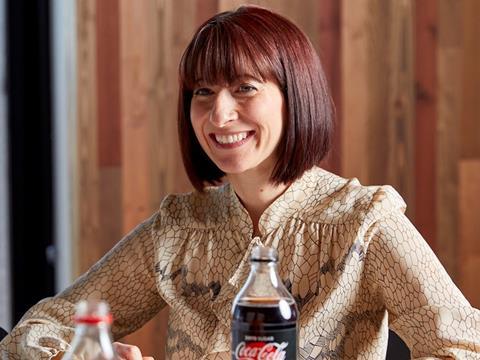 In October The Coca-Cola Company revealed its first prototype bottle made from 100% plant-based plastic. Speaking exclusively to Packaging Europe, Dana Breed, global R&D director of packaging and sustainability at the Coca-Cola Company, tells us more about the R&D process that led to the creation of the innovation, as well as its significance to Coca-Cola's wider sustainability efforts.
In the context of Coca-Cola's wider sustainability strategy, what motivated the creation of this bottle?
As part of our World Without Waste vision, we are working to make all our packaging more sustainable, including maximizing use of recycled and plant-based renewable content while minimizing use of virgin, oil-based material.
We have pledged to collect back the equivalent of every bottle we sell by 2030, so none of our packaging ends up as waste and old bottles are recycled into new ones; to make 100% of our packaging recyclable; and to ensure 50% of our packaging comes from recycled material.
This innovation supports the World Without Waste vision, specifically the recently announced target to use three million tonnes less of virgin plastic from oil-based sources by 2025.
The Coca‑Cola Company will pursue this 20% reduction by investing in new recycling technologies like enhanced recycling, packaging improvements such as light-weighting, alternative business models such as refillable, dispensed and fountain systems, as well as the development of new renewable materials.
Can you give us an outline of the R&D process that led to the creation of the new solution?
The Coca-Cola Company has been heavily involved in this space for many years. The R&D process includes keeping a close eye on new chemistries and processes that could be applied to this area, connecting different aspects of these when it makes sense, and guiding development for the areas where there are gaps between the state of the technology and something that can be deployed at full scale.
For some aspects of the 100% plant-based bottle, (excluding the cap and label) we were more hands-on, evidenced by things like co-owned patents. We also engaged with partners in other ways, like by working with the supply chain to develop specific capabilities. Finally, we leveraged our own internal capabilities that we use when we develop new packaging all over the world.
In 2009, Coca-Cola revealed a PET bottle made with up to 30% plant-based material. In terms of the creation of this new 100% plant-based bottle, what key lessons had Coca-Cola learned from earlier iterations?
PET comprises two molecules: approximately 30% monoethylene glycol (MEG) and 70% terephthalic acid (PTA). The original PlantBottle, introduced in 2009, includes MEG from sugarcane, but the PTA has been from oil-based sources until now.
Our new prototype plant-based bottle is made with plant-based paraxylene (bPX) - using a new process by Virent - which has been converted to plant-based terephthalic acid (bPTA). As the first beverage packaging material resulting from bPX produced at demonstration scale, this new technology signals a step-change in the commercial viability of the biomaterial. The bPX for this bottle was produced using sugar from corn.
The second breakthrough technology, which The Coca-Cola Company co-owns with Changchun Meihe Science & Technology, streamlines the bMEG production process.
Typically, bMEG – which accounts for the 30% plant-based materials in our existing PlantBottle - is produced by converting sugarcane or corn into bioethanol as an intermediate. This is subsequently converted to bioethylene glycol.
The inherent challenge with going through bioethanol is that you are competing with fuel. Coca-Cola needed, and co-developed, a next-generation MEG solution that addressed this challenge, but also one that could use second-generation feedstock like forestry waste or agricultural byproducts. Our goal for plant-based PET is to minimize carbon footprint, so the combination of technologies brought by our partners for commercialization is an ideal fit with this strategy.
In terms of performance, how does bPET compare with PET. What are the reasons behind these differences/similarities?
The bPET has not demonstrated any unexpected shortcomings. The testing of the plant-based bottles follows the identical, comprehensive performance protocol that we use for any of our commercial packages, and it continues to meet or surpass those performance criteria.
Let's talk end of life – how can the bottle be recycled, and how does this process compare to the recyclability of PET bottle?
Developing renewable pathways for PET means the materials will fit into existing infrastructure for recycling as soon as they're introduced. bPET is designed to be just like PET, which is why it's part of our strategy. It can be mixed with rPET and virgin fossil-based PET interchangeably, including in the recycle stream.
How does the bottle (and bPET in general) compare to standard PET in terms of overall carbon emissions? Have any LCAs been undertaken to assess this?
The current bottle is a prototype and therefore it is not possible to make comparisons to bottles produced at a mass commercial scale like PET. It is envisaged that bio-based solutions will be produced in smaller volumes initially.
Mechanical recycled content will typically have a lower carbon footprint than virgin materials, but we will need to incorporate some "like virgin" or alternative virgin sources, in other words plant-based material. These plant-based materials have a lower carbon footprint than oil-based materials.
Looking ahead, is there a roadmap in terms of commercializing this solution at scale? In terms of long-term strategies, could bPET eventually reach a point where it rivals PET/glass/aluminium?
We believe that plant-based plastics have a key role to play as part of our overall PET mix, alongside recycled PET content from mechanical and enhanced recycling sources. These three technologies work together and can be recycled together, helping us close the loop for our packaging. Our infographic outlines our approach to reducing virgin oil-based plastics.
We are very much looking forward to seeing the first announced commercial facility using the bMEG technology co-owned by The Coca-Cola Company and Changchun Meihe Science & Technology when UPM starts up its plant in 2023. This innovative technology is available for licensing, and we encourage others interested in investing in the bioeconomy to reach out to either The Coca-Cola Company or Changchun Meihe Science & Technology for more detailed discussions.
Whilst the UPM technology will shortly be in commercial production the Virent technology has yet to be commercially scaled. We will follow developments in this regard closely.