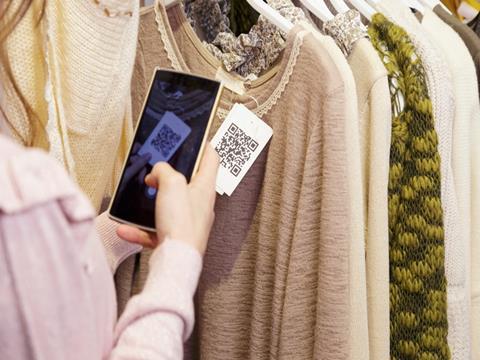 A number of major fashion and retail brands have committed to reducing the amount of packaging they use, improving the recyclability of their packaging, or developing reusable options. Debbie Shakespeare, senior director of sustainability compliance and core product line management at Avery Dennison RBIS, explains how incorporating smart technology across the supply chain will help to ensure transparency and enable brands to reach these sustainability targets.
Responsible packaging suppliers today share a simple ambition: to develop reusable solutions with a low carbon footprint, helping their clients minimise harmful emissions. What really excites me in the world of fashion packaging today is the idea of smart technology working alongside FSC-certified boxes, recycled polybags, and plastic-free hangers, to really step sustainability up a few gears.
For example, QR codes on bags and boxes, and RFID tags on packaging in the supply chain, will be instrumental in facilitating the circular economy and measuring progress over time. 'Closing the loop' is what circularity is all about, enabling products and their protective packaging to have extended life cycles, rather than single-use, highly-wasteful ones.
In a nutshell, tech-driven supply chain transparency must be built into fashion brands' sustainability initiatives, otherwise much of the journey to Net Zero will stall down a blind alley. Smart technology sees a future of packaging that is customisable and can impart a wealth of information to the end consumer, from waste transparency, to advice on recycling, to track and trace efficiency, to marketing experiences.
Advances in fashion packaging
Fashion relies on plastic and paper throughout the supply chain – from polybags in factories to plastic packaging for online orders and plastic carrier bags in stores to paper return labels.
It's widely recognised that the industry has work to do, to clean up its act, and many apparel brands now see packaging as one element of their business where CO2 emissions can be reduced. Their reality is that eco-conscious consumers expect nothing less.
Nike uses QR codes on its cardboard boxes when trainers are delivered via e-commerce to customers' homes. "This is more than just a box, it's part of Nike's journey toward zero carbon and zero waste," reads the snappy printed messaging. The text on the box urges you to "Please reuse then recycle this box". A simple scan of the QR code takes you to Nike's sustainability website, where you learn how to "recycle your athletics shoes", "extend the life of your running shoes", or buy "like-new, gently-worn" products from the Nike Refurbished range. It's evidence that packaging can provide the information bridge that will ultimately prolong the life of the product.
Meanwhile, other fashion brands and retailers such as H&M, Stella McCartney and Bestseller have publicly committed to making all their plastic packaging reusable or recyclable. This mirrors the commitments outlined by the UK Plastics Pact which encourages its signatories to achieve this goal by 2025, alongside cutting out problematic or unnecessary single-use plastic packaging, recycling or composting 70% of all plastic packaging, and including an average of 30% recycled content across plastic packaging.
US eco-brand Patagonia is always impressive, ensuring packaging matches the high sustainability standards of its clothing. The retailer's award-winning baselayer packaging looks cool, thanks to its hexagonal shape, and is made of 100% post-consumer waste corrugate, which is easily recycled. Every stage of the packaging process, from the manufacturer to the consumer was considered in this design.
Re-thinking packaging from factory to end-user
In response to major brands and nations gradually banning single-use plastics, Avery Dennison has developed a portfolio of more sustainable packaging solutions. Each product in the 'Re-Think Packaging' range was designed to eliminate single-use plastics, introduce reusable and recyclable materials, and limit the amount of packaging materials being used.
Working with retailers, innovation networks like ByBorre, NGOs, materials suppliers and sustainability experts, we're committed to helping brands meet their carbon-cutting goals. An important part of this is focusing on renewable resources and recyclability, but also carefully considering the end-user of the product; who they are, where they are and how they will interact with the packaging. We know that digital IDs in the supply chain will be essential to reach and communicate with the end-users, whose job it is to adopt a mentality of recycling and reuse.
The complexities of plastic
It's shocking that out of the nearly 300 million tonnes of plastic produced every year, half is for single use. Yet fashion retailers will always need plastic to prevent garments getting damaged, resulting in both financial and environmental costs. A damaged product that is unwearable has a far greater environmental toll than manufacturing a polybag. So, we can expect demand for polybags made from recyclable materials to rocket in the coming decade. This calls for huge investment in industrial recycling plants, and of course, consumer education.
Clearly the industry needs to support high-quality recycling via the sorting, collecting and recovery of plastic packaging material used in distribution, e-commerce and retail operations. And thankfully progress is being made here through industry collaboration and working groups such as Fashion for Good, Ellen MacArthur Foundation, and RE100. Through these partnerships, a systemic change has been set in motion, but a lot more needs to be done.
Laws and costs will force brands to take action
Changes in the policy landscape are encouraging companies to only put on the market packaging that is recyclable. There are also incentives to include recycled content in packaging, through expanded 'Extended Producer Responsibility' (EPR) schemes.
While brands must recognise their ethical responsibility to use greener packaging, they will increasingly find that costs can be mitigated in some markets by taking proactive steps to reduce the amount of packaging, designing packaging to be easily recyclable or reusable, and incorporating recycled content into their packaging.
Ultimately, fashion packaging must be designed for both the shopper and the planet. But to reach Net Zero, packaging must also incorporate a means of digital communication and data tracking, presenting information that will complete the circularity loop, and give brands the vital data they need to prove their sustainability initiatives are working.