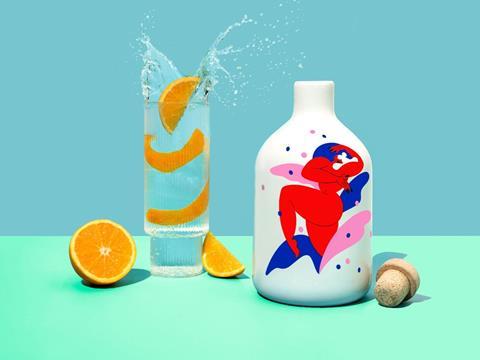 Grapht Gin's gin bottle concept uses plastic-free materials including ceramic, natural cork, and organic inks and an environmentally conscious production process. With a combination of vintage aesthetics and bold graphics, the bottle was designed with the help of augmented reality (AR) to be kept and reused after the gin itself is finished.
We spoke with Oli Powell, product designer for Grapht Gin, about how design played into sustainability during the creation of the gin bottle.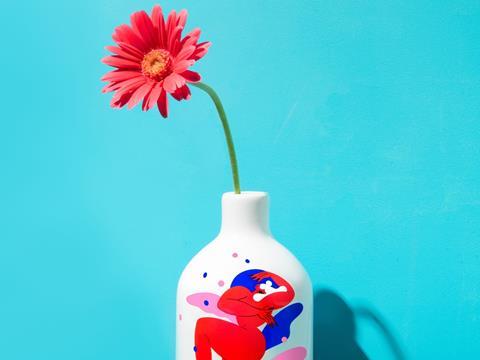 The ceramic solution
During the initial conceptualisation of Grapht Gin, Powell – along with his co-creator and husband, Jon – initially considered a more traditional glass bottle for their Yorkshire-made dry gin. However, the glass manufacturing process didn't easily align with the creators' concept of a small range of unique and long-lasting bottles.
"It was important for us to source locally, and showcase British craftsmanship," Powell explains, "but we struggled to find glass manufacturers who could cater to our low volumes, so it was an extremely frustrating place to begin."
Inspiration for the ceramic bottle came to Powell when he re-examined his own gin collection and noticed a stoneware edition of Xoriguer, a so-called cult classic gin from Menorca, Spain. This stoked Powell's idea to use the bottle's appearance to enhance its longevity. As Powell says, "we wanted our bottle to be unique, yet have a simple aesthetic that would also look great as an ornament, and ceramic really allowed us to strike that balance."
Using ceramic also helped to solve the issue of production: "Ceramic can also be produced in much smaller volumes than glass, so it ticked a lot of boxes". The basic shape of the bottle, as well as its white base, draws "inspiration from vintage crocks and milk bottles", and "a lot of time was spent developing the shape to give it dual purpose, with plenty of conversations back-and-forth with our manufacturer to fine-tune the bore, neck and shoulders".
Grapht work with a manufacturer based in Stoke-on-Trent to produce the ceramic bottles with locally sourced porcelain. "We source locally wherever possible to reduce our environmental footprint and make sure every aspect is traceable," notes Powell. "Our ceramic bottles are made in a factory that recycles waste heat, wastewater, and excess clay back into its manufacturing process."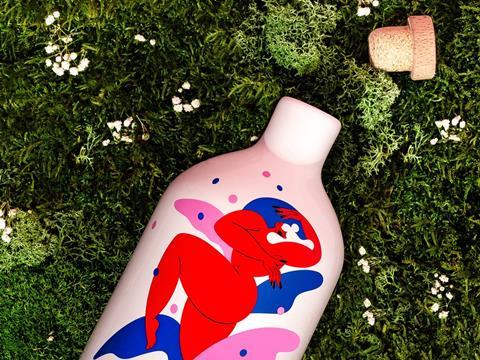 Design dimensions
"When we think about gin – or any other product for that matter – we often forget about the lifecycle of everything that goes into it," Powell says. "There's always a throwaway element in almost every purchase that we leave up to the fate of our local authority."
Powell's solution was setting out to create a design that "challenged the perception of the bottle itself", with the goal of making "something just as precious as the liquid inside."
Powell collaborated with Marylou Faure, a London-based French illustrator and artist, for the artwork on the first edition of Grapht Gin. Faure's style includes bold, colourful images and typography, with a particular focus on women characters. The Grapht Gin bottles feature a red, pink, and blue graphic of a woman in Faure's signature style, which, Powell says, "is a celebration of all the women in our lives that we couldn't have done this without".
"Like buying a piece of art, our bottles feature designs to encourage our customers to keep, reuse, and cherish forever," Powell adds.
For Powell, it was important to get feedback on the design before it went to production. Therefore, augmented reality (AR) became a key element of ensuring the bottle would be something consumers wanted to display in their homes.
According to Powell, "AR is a real asset in a designer's toolkit – it gets you up close and personal without investing in physical equipment. It's also a fantastic way to share your designs with friends, family, and potential customers to experience the bottle in real life for feedback before nailing the specs."
AR allowed the aesthetic of the bottle – including Faure's design – to be trialled virtually with a smart phone. "You have to be careful when working in 2D and 3D alone, as it can skew your perspective on size and shape," Powell warns, but the use of AR "[brought] everything to life" and meant the designs were production-ready, without such a need for physical prototypes, saving on costs.
As well as enhancing the bottle's reuse appeal, the additional design elements of the bottle needed to fit with Grapht's sustainability commitments. Overall, Powell says, "we banned plastic, even synthetic corks, and our artwork and labelling are printed directly onto the bottle using organic inks."
Grapht "sparked our imagination for creating our own purpose-led product that is transparent about its manufacturing process", according to Powell. "We're conscious of where our purchases come from, now more than ever - how they're made, and the impact they have on our community and the environment.
"At its heart, Grapht is all about creating conversations, whether that's about art and design, the environment, helping others, or a shared love for gin."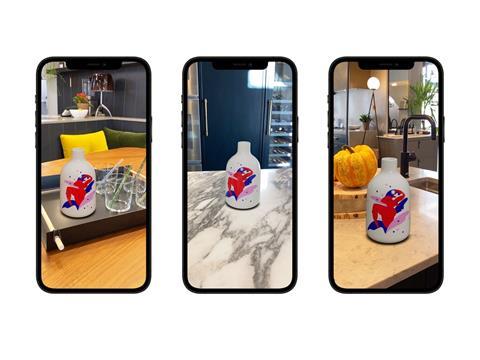 What's next?
Currently, Grapht Gin is in its early stages of development, with Powell and his partner still seeking investment in the project. Potential customers can register their interest in Grapht Gin to get updates about the project and when it will be available to purchase.
Looking to the future for both Grapht and the alcoholic beverage industry, Powell suggests the project has been a learning curve. "Developing Grapht has taught us that the industry still has a long way to go in improving its environmental impact," Powell explains. "It of course starts with us, the producers, to ensure we're exploring and pushing new ideas, but there needs to be demand from the major players for there to be a real shift in manufacturing that enables every business large or small to lower their impact without increasing their overheads."
For Grapht, "refillables are next on the agenda" in terms of exploring new ideas to boost sustainability and lower the environmental impact of products like gin. According to Powell, this involves asking, "how do we stand by our commitment to reducing waste but also keep the gin flowing?"
Powell concludes: "It hasn't been easy finding an off-the-shelf, plastic-free container, but we think we have a simple solution in the works."