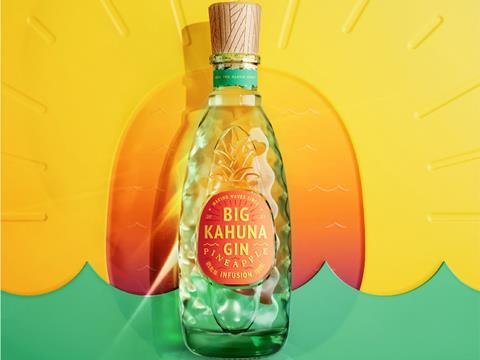 Perola Spirits is presenting its pineapple-infused gin brand in packaging designed by Appartement 103 with a bespoke structural bottle, laser engraved closure, and a look for its shipping boxes.
Utilising new blowing technology, the gin bottle has apparently been designed with the shape of a pineapple in mind while also seeking to convey playfulness in line with the drink's branding. On the inside is an embossed glass pattern, which is revealed when the gin is poured and references the drink's pineapple flavour.
Additionally, the front label features a 'strong' colourway and is framed by embossed finishing and spot varnishes.
"The Big Kahuna project has been the most significant brand creation endeavor for Perola thus far, and we couldn't be more pleased with the results," says Arno Schmid-Egger, managing director at Perola Spirits. "The talented team at Appartement 103 has brilliantly transformed our vision into a stunning and iconic visual brand identity.
"Despite encountering various challenges due to the innovative nature of the packaging, Appartement 103 rose to the occasion and worked diligently with us to overcome them. We are grateful for their exceptional work and unwavering dedication to the success of this project."
Denomination recently designed what claimed to be the first label-free wine bottle for Fourth Wave Wine's Crate brand.
Last year, we spoke to Oli Powell from Grapht Gin about the company's plastic-free gin bottle concept, made of plastic-free materials such as ceramic and designed using augmented reality.