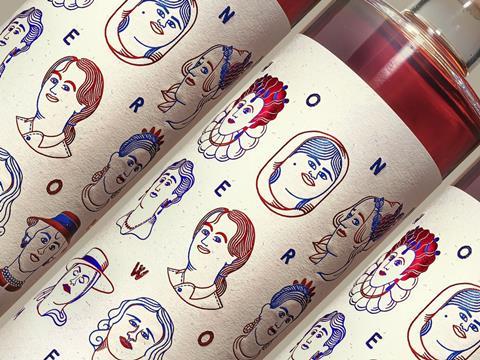 New research commissioned and conducted by James Cropper has found that designers believe that social media and environmental consciousness are now the biggest influences on branding and packaging colour trends, overtaking previous predictions that technology would be the top factor by 2029.
From technology to social transformation
According to the original Progressive Palettes Report by James Cropper, conducted in 2019, 22% of designers believed that technology would be the top influence on colour trends in packaging design by 2029, followed closely by social media. However, 2022 data from a pulse check study involving 500 UK designers found that this has dropped, with only 8% of designers believing that technology will continue to have a strong influence on colour trends.
Instead, the new research suggests that designers are now looking to social media and environmental consciousness as the leading influences on colour trends in packaging design. Only 10% of designers in 2019 believed that social influences had a major impact on packaging design colours, but this has now apparently increased to 20% of the pulse survey sample.
Alison Rodwell, colour trend expert for James Cropper, explains: "We're in uncharted territory.
"We can see this in the approach to colour in all areas; a great example being this year's Pantone Colour of the Year which, for the first time in Pantone history, was a completely new shade. This is a reflection of the transformative times we are living in.
"Colour is a critical form of communication, affecting the way we engage and connect. This is illustrated further by our study, with an interest in retro trends coming through strongly amongst the design community."
A shift in consumer priorities
James Cropper has therefore attributed this shifting trend to the events that have transpired since the 2019 research, acknowledging that the social, political, and environmental situation appears to be very different today. Since 2019, consumers have experienced a global pandemic, the international attention and solidarity given to political movements like Black Lives Matter, and an intensification of the narratives around the climate crisis, both in terms of its severity and in the worldwide responses to the threat it poses.
In a trend report from Pentawards, diversity and inclusion were identified as major influences on packaging design. Brands are beginning to account for the diversity of consumers – as a lived, everyday experience rather than a "token nod" – through design that is inclusive of race, gender, sexuality, disability, and age.
John Glasgow, co-founder of Vault49, told Packaging Europe that it is important such changes are sustained, not just reactionary trends. Glasgow says, "when it comes to packaging, it's more important than ever that brands don't become lazy and revert to clichés, stereotypes or generic iconography. Packaging needs to work harder to represent different races and communities authentically. Brands and their packaging design agencies need to think inclusive-first."
"Growing up and living in cities in the UK and the US, you walk down the street and the sounds, the smells, and the people you come into contact with are made up of an array of different cultures and ethnicities. This experience is rarely reflected when you walk down a mainstream supermarket aisle, if at all. So there clearly is a huge job to be done through branding and packaging."
The Pentawards trend report also points to new brand and consumer interactions with colour. The report suggested that bright, bold, and disruptive colours – often in combination with minimal imagery – were a design trend likely to expand in the coming years.
Rodwell adds, "It's easy to understand how the social impact of the pandemic, world focus on climate change and politics has created this yearning for happier times. Likewise, colours which signify hope and stability are high on the agenda of designers."
Over the last two years, consumers' relationships with nature have also been redefined. Global lockdowns meant that access to nature was restricted for some, while the initial lifting of stricter measures to stop the spread of COVID-19 allowed people to meet outside only – hence a lot of people spent more time in nature than ever before.
Nature appears to have influenced colour choices and trends in packaging design. James Cropper itself, for example, recently launched Wainwright Colours from Nature, a range of coloured paper dyed from plant extracts that would have otherwise been wasted. The colours were inspired by the author Alfred Wainwright's connection with the Lake District and in partnership with the annual literary nature writing award, The Wainwright Prize.
Packaging design isn't leaving technology behind completely
The research also pointed to the future influence of the 'phygital', the merging of physical and digital spaces such as the Metaverse, on packaging design and colour. James Cropper says this is again reflected by Pantone's 2022 Colour of the Year (Very Peri), with Laurie Pressman, vice president of the Pantone Colour Institute, stating at the time: "Creating a brand new colour reflects the global innovation and transformation taking place. As society continues to recognize colour as a critical form of communication, this new red-violet-infused blue hue highlights the expansive possibilities that lie before us."
According to James Cropper's study, almost half of the designers agreed that the emergence of the Metaverse is a "crucial moment" for brands as they work to translate the power of design colours into virtual realities.
Chris Schofield, head of design at James Cropper COLOURFORM, adds: "With reliance on technology to work, shop and socialise during the pandemic, strategies for how colours transcend the physical and digital has become more important than ever.
"The Metaverse is like nothing we've ever seen before, and it will dramatically alter the way consumers engage with brands. Awareness and consideration of how colour is displayed and perceived in the digital world is a key consideration for our industry."
While technology will continue to have some influence, it seems this will mainly be in the realm of new innovations that merge physical packaging with digital added value. A number of brands are beginning to incorporate smart packaging into their portfolios as a way to further engage consumers.
For example, Skittles' limited-edition Pride packs featured a QR code that allowed consumers to access an augmented reality (AR) experience, with resources from Minus18, an organisation for LGBTQIA+ young people in Australia, and to drive donations. This example is particularly interesting in the context of colour: Skittles swapped its "iconic" rainbow packaging for a colourless pack to mark the campaign.
Schofield concludes: "With the unbelievable pace at which technological innovations are advancing, there is now an argument that the industry sees growth in technology as a given. 
"Keeping up to speed is important, but tech is now a channel in its own right, rather than an influence on colour selection and trends."