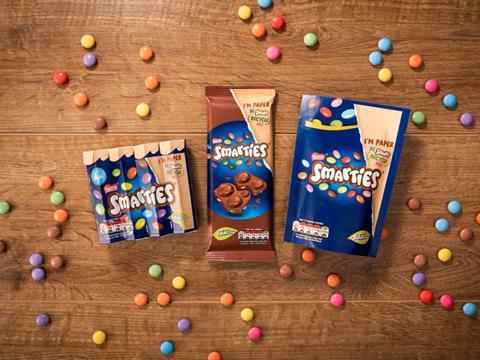 In recent weeks and months, we have seen a flurry of announcements of confectionery brands moving some of their packaging from plastics to paper. What were the challenges that had to be overcome, and how scalable is paper as a packaging solution? How can unintended consequences be avoided? Elisabeth Skoda speaks to three companies that took the plunge.
Mars Wrigley for BALISTO® - 90% paper
Mars Wrigley Germany has collaborated with German retailer EDEKA to offer its Balisto chocolate bar in a paper-based packaging for the first time. More than 90 percent of the packaging of the 100,000 multipacks (each contains 9 single bars) is made of paper.
With this test, Mars Wrigley reduces the use of packaging plastic by around 440 kilograms. The BALISTO® multipacks will be available in more than 500 EDEKA markets in the Hannover region from February.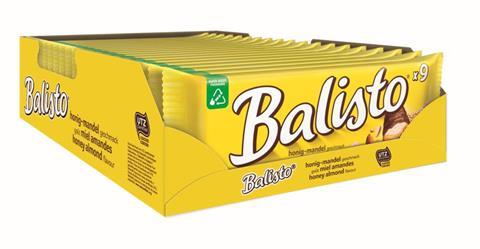 Chocolate places high demands on packaging. On the one hand, it must maintain optimal taste and quality, and, on the other hand, it must reliably protect the product from contamination and moisture. The packaging developed for Mars from special paper is more than 90 percent natural fibers and is FSC® and PEFC™ certified. A thin barrier coating protects the chocolate and prevents it from being greased outwards.
"The main challenge was to ensure ensuring the packaging stood up to the rigour of our manufacturing process and our quality standards. The process especially focused on gathering data and insight to make this possible," says Russell Avens, Regional Director Pack Customer & D-com, R&D EMEA, Mars Wrigley.
A barrier is needed to ensure food safety with packaging, he points out.
"With this test, we are exploring and learn project to see what solution would work in practice. We are working in partnership with our suppliers on how we maintain functional properties and balancing quality, food safety and recyclability. This is our first test and learn to see what solution is most feasible. In addition to working on the technical solution for the packaging format, we are also working closely with the recycling infrastructure across Europe. In addition, we are looking how to preserve optimal shelf life as we test different papers."
The project will show how the paper material proves itself in practice, for example in the production and assembly in the factory located in Viersen (Germany), during transport and on the shelf. How customers accept sustainable packaging is also crucial to success. All the lessons learned will feed into the future design of the packaging for the Mars chocolate bar portfolio.
"The test and learn will provide valuable insights with our supply chain, our customers and consumers, as well as how it works with local recycling infrastructure to understand if this is the right solution to scale across our Mars Wrigley portfolio, Mr. Avens says on the scalability potential.
Nestlé: Recyclable paper packaging for Smarties brand worldwide
Nestlé has moved beyond the testing stage and announced that all packaging for its Smarties brand worldwide would be packaged in paper, although it has to be said that due to their inherent properties, Smarties don't have as stringent requirements on being kept fresh.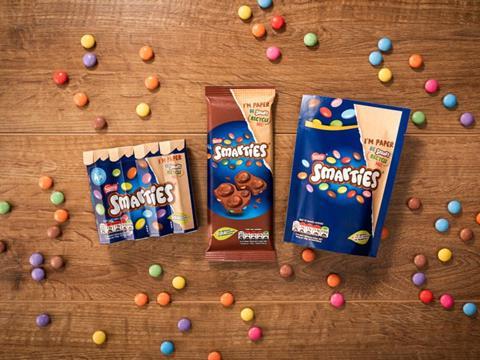 The new Smarties paper packaging is reportedly sourced sustainably and is made of a coated paper, paper labels, and carton board. Information about how to properly dispose of the packs is also included on its labels with the aim of raising consumer awareness.
Nestlé says that it invested "significantly" to upgrade its factories globally, including in Hamburg, Germany – one of the company's largest factories for confectionery products.
Nestlé 's global head of confectionery and ice cream, Alexander von Maillot, lists some of the challenges that had to be overcome:
"276 million packs of Smarties are sold globally every year. The move to paper means removing approximately 250 million plastic packs, equalling over 400 metric tons of plastic packaging, including plastic lids and stickers."
In the process, the company also had to say goodbye to popular design features.
"It was quite hard for us to give up the iconic round tube with its easy thumb opening. But we came up with a solution that satisfied us. The new paper tube is hexagonal, can still be opened with one thumb and is reclosable."
In another instance, a design change facilitated finding an alternative for plastic.
"For our tube multipacks, instead of using a bag, we devised a connecting system between individual tubes. In order to achieve that, we had to give a lot of on-pack space to talk about the brand in order to use the least amount of packaging material," says Mr. von Maillot.
Bruce Funnell , Packaging Lead – PTC York, Nestlé underlines the fact that packaging provides the fundamental role to contain, protect and preserve smarties for consumers, and that paper required some work to make it work in this particular context.
"Plastics are strong, lightweight, affordable and used widely, but problematic when it ends up in landfill, or worse, gets littered. Paper is more fragile, stiffer, open and porous. To counteract that, we use a special coating, which can easily be separated from cellulose, and the resulting waste material can be used for further recycling, or, as is done in many recycling plants, to power the actual recycling plants."
Adaptations were also needed on the machine side to make production run smoothly.
"Our flow wrap machines process 300 packs per minute and work 24/7, so equipment and processes had to be adapted to guarantee reliability. For the new big Smarties tube, we installed a completely new line, for the mini pouches we changed the bags from plastic to paper and changed the parameters."
Some clever innovation was needed to adapt the process.
"The devil was in the detail in this case. For example, we had to find the right temperature for sealing – too hot, and we would burn the paper pouch, too low, and the pouch wouldn't be sealed properly."
Changing from one material to another has to be carefully managed to avoid creating new problems, consider entire supply chain from raw material to processing to consumer and recycling at end of life. "To that end, we used a LCA-based assessment tool. Our paper, pulp and board are from sustainable sources," Mr. Funnell points out.
Ritter Sport – 100% paper based chocolate wrapper trial
Ritter Sport also went down the route of using paper wrappers for chocolate, and built the solution slowly, starting with a small scale trial in 2020.
"During the development of the initial wrapper, we worked in close cooperation with paper manufacturers and converters to create the first prototype, and invited our customers to get in touch and give us feedback. At that stage, we weren't able to produce the packaging at an industrial scale yet, so there was a lot of manual work involved in the packaging process, and even the logistics process was manual, with the chocolate posted by hand. Demand was great – when we asked our customers, we received 25.000 requests for this prototype. But we had produced only 500 prototypes," says Katja Binder, Head of Packaging Development at Ritter Sport.
During the trial, Ritter Sport received a lot of positive feedback on paper packaging.
"We were not sure whether our iconic Knickpack, a special snap pack mechanism that enables to open the chocolate bar by breaking it in half, was still important to customers – and it was. We saw that the pack needed improvement, as the prototype material tore quite easily when opening.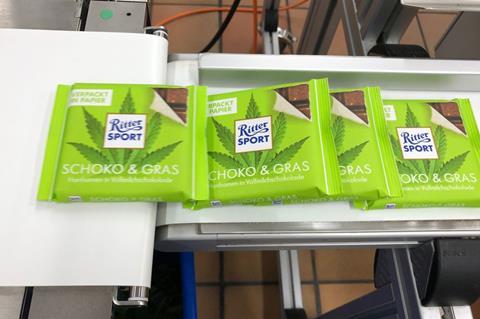 The next scaling up step was to a collaboration on the Schoko and Gras chocolate bar with Austrian retailer Billa. Grammage was increased to improve strength.
"The new prototype packaging material features an increase from 75 to 90 grams per square meter, offering more strength to the pack during the packaging process, but also more protection at home. We also worked on the sealing pattern to make the pack easier to open.
In total 35.000 chocolate bars were produced on an industrial line and delivered. As with the Balisto pilot, barrier was a challenge.
"When we started the development process two years ago, there was no functional barrier paper available, but development has moved fast since then. The paper we use now is coated with a water-based barrier material that is fit for recycling in the paper recycling stream. Of course, it would have been easy to use lamination instead, as this makes product protection easier. But even a thin layer of laminate makes recycling more difficult, which is a key feature for us to give the material a second life."
Ritter Sport has integrated these learnings into the development process, and in 2021, moved on to launch a paper-based pouch for its "Mini Mix" product range.
"We do not know if and how and when we will have 100% of paper-based packaging for 100% of our products, but it is certainly a development journey," says Ms Binder.
The company performed shelf life tests for Ritter Sport Schoko und Gras, and approved it for a shelf life of six months.
"Some products are more challenging than other. Milk chocolate is fine, but what about the aroma in our rum raisin chocolate, and the humidity it contains? Sharp edges, like in our cornflakes and nut chocolate could also pose a problem, so more tests are necessary."
Pack design options are a bit more limited when it comes to paper, but that can be a positive thing, as Ms Binder points out in conclusion.
"We opted for a natural look and decided against glossy coated paper that has similar printability to polypropylene film, but this can be a bonus, as customers see straight away that the packaging is made from paper. Opening the chocolate packaging is a multisensory experience. The consumer has to see that it is paper when the product is on the shelf, and feel it and hear it when opening the pack. So, our aim is to make the printability as good as possible without losing the "natural" experience.
A particular challenge with the material was the print quality, and making the EAN code and making the ingredients list readable."