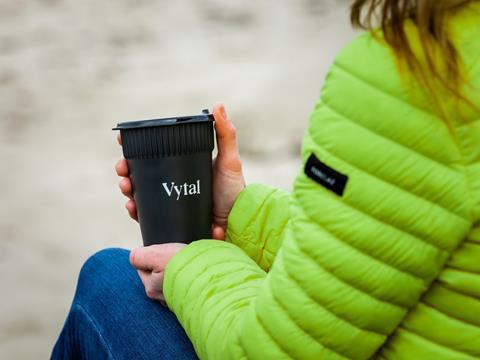 Environmental charity Keep Scotland Beautiful has launched its Cup Movement, a pilot scheme based in the Highlands that aims to normalise reusable takeaway cups over their single-use alternatives.
A survey conducted in collaboration with Diffley Partnership previously suggested that 90% of residents in the Highlands were concerned about the impact of littered takeaway cups on the environment, while 81% felt that takeaway venues needed to make reusable cups more accessible for consumers.
In response, Keep Scotland Beautiful has developed the scheme with local businesses around the NC500 route on the country's north coast. Consumers can download the Vytal app and order a drink, at which point a QR code is scanned from the customer and the reusable cup. This cup is expected to be returned within fourteen days of the purchase.
Twenty-five businesses have signed up for the scheme, which will run until autumn 2023. To encourage participation in the pilot, anyone who downloads and uses the Vytal app for the first time in May will be offered a free hot drink.
"While the convenience of single-use cups often wins over reusable options, they come at a cost, to our environment, and also for those businesses using them to sell their hot and cold drinks in," explained Catherine Gee, deputy CEO of Keep Scotland Beautiful. "Single use cups are a classic example of the throwaway culture that we want to help change. Millions of single use cups are wasted every year, and we want to make reuse the norm.
"Our planned trial of a reusable cup scheme in collaboration with North Coast 500, Zero Waste Scotland and Highland Good Food Partnership builds on the learning from our innovative Cup Movement in Glasgow. I'd urge everyone to download the Vytal App and get drinking guilt free coffee."
Tara Jaffray, owner of Corner on the Square in Beauly, added: "We all have to take the chance to do our bit, and reduce waste at every given opportunity. As a new owner of a hospitality business offering takeaway, I am very conscious of the amount of single use cups we use. I am delighted to be taking part in this trial initiative and hope to educate and encourage as many customers as possible to join the Highland Cup Movement."
The Highlands' Cup Movement is being funded by Hubbub and Starbucks' £1.4 million Bring It Back fund. Alex Rayner, general manager at Starbucks UK, commented: "We are really proud that Keep Scotland Beautiful is receiving funding for such an important reuse initiative, and we look forward to seeing how their trial progresses. We've introduced an array of different reusable activations over the years to test and trial new ways to encourage reuse.
"Our latest work with Hubbub, the Bring It Back Fund, builds on our reusables work, aiming to find new ways to inspire people and our customers to choose to reuse. It is important for us as a company that we continue to drive industry-wide innovation, as we work to increase reusability and inspire greater reusables uptake in local communities across the UK. This forms part of our long-term goal to reduce waste and become a resource positive company."
The Scottish Government's Circular Economy minister, Lorna Slater, concluded: "Switching to reusable cups is a simple and effective way to avoid waste. Lots of people already carry a reusable cup with them, but hundreds of millions of single-use cups are still being wasted every single year.
"The Highland Cup Movement will help encourage more people to switch to a reusable alternative and inform the Scottish Government's plans to introduce charges on coffee cups and other single-use drinks containers, and I look forward to seeing the results."
Six winners of the Bring It Back fund, including Keep Scotland Beautiful, were announced at the end of last year. It was hoped that the prize money would assist the winners in scaling up their sustainability-minded food and beverage packaging solutions.
Fellow winner Again is currently working with Uber Eats to trial a reusable system in central London, with used and washed packaging being collected from consumers' doorsteps.
Starbucks ran its own reusable cup pilot scheme in 2022. Packaging Europe interviewed a spokesman about its progression and the company's intention to scale up the scheme in Europe, the Middle East, and Africa.
If you liked this article, you might also enjoy:
McDonald's Director of Sustainability in Europe on the company's approach to packaging sustainability
McKinsey on whether or not on-pack sustainability claims affect consumer spending
Perspectives from industry-leading experts on the EU's Packaging and Packaging Waste Directive revisions
A deep dive into the most important packaging sustainability trends and solutions