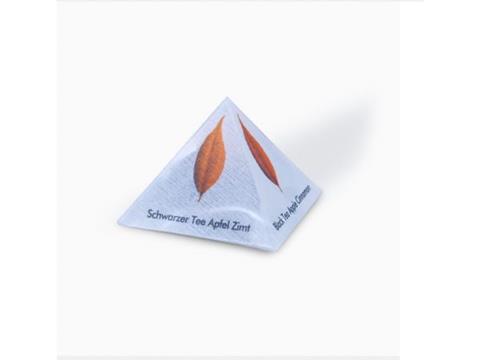 A few years ago Bistrotea revolutionised the world of tea drinkers with the TPOD (Tea Portion of Design).
The company from Munich developed an innovative counterpart to the common Teabag: The TPOD (Tea Portion of Design), which is both delightful tea and practical spoon in one. The stylish product comes packed in its own elegant ENDURO Ice packet. The complete concept of TPOD and ENDURO Ice has won many prizes over the time, including FPA Gold Award Winner in Packaging Excellence USA, Swiss Star and EAFA Alufoil Trophy Winner Europe.
Bistrotea specialises in the production and distribution of exquisite teas and has committed themselves to a tradition of preserving the originality of the tea with the help of processing techniques that have been handed down through the centuries at the same time as supporting sustainable cultivation.
Originality through modern design and user-friendliness determine the appearance of the product. Special emphasis is put on the form, colour and design, combined with the highest quality demands on materials and workmanship. The aim: create a product that not only attracts attention but also gets talked about. Not just an alternative to a teabag but a pleasure to experience, to look at and to enjoy.
Places of interest for serving high quality teas
The newly shaped bags in pyramid form (TIPI) allow the tea lover to see the unique tea in all its splendour. Thanks to the form and size even whole leaves and petals can be seen in them.
The TIPI is a protective pyramid shaped, biodegradable tea bag made from a special paper: ideal for the kitchens of upscale restaurants and hygienic services.The king-size Tea Bag offers "Tea for two". For tea lovers who like to share everything or simply just love to indulge. The elegant packaging makes it ideal as a gift; the teabag is equipped with a practical clip allowing it to be hung directly on the teapot or the cup.
The packaging concept was generated in close cooperation with Sihl. ENDURO Ice paper-film compound was the best solution for production of both protective sleeve in which the tea is wrapped as well as the clip. It stands out with thanks to its elegant appearance and graceful feel; the film compound opened the doors to a host of application possibilities.
ENDURO Ice combines both the advantages of paper and film: making it tear resistant at the same time as being impermeable to water – perfect for printing using all standard printers and further processing.
Expanding the creative scope: printing techniques and solutions are possible with ENDURO Ice, when common transparent papers have already reached their limits. Products from ENDURO Ice are extremely durable and maintain their elegance even after intensive use.
Visit Bistrotea at ANUGA, 07 – 11 October 2017, in Cologne in hall 7.1 stand A068
More info: