Since early 2018, plastic packaging has been vilified and scapegoated by mainstream media, governments, 'greenwashing' PR campaigns, and consumers alike, drawn into the epicentre of the sustainability debate as the plague of our planet. Indeed, plastic waste has produced the most horrifying and impactful images taken from the remotest corners of the earth.
Perhaps this material has been elevated in the debate as it is easily comprehended by the human eye in very public and globally shared natural landscapes. We can't see emissions, and contrails paint a pretty picture against a blue sky. If you google 'food waste' you can't see quantifiable real-life graphic images of the widely reportedly, roughly one third of the food produced in the world for human consumption every year, approximately 1.3 billion tonnes that gets lost or wasted, as it isn't dumped on our beaches, but instead in landfill. Out of sight, out of mind.
But plastic - we can easily witness its unbounded and brash spread across our planet, and swiftly form a narrative around these shocking images. Of course, the flash focus on this material has led to a sprint towards forming more sustainable, and closed loop approaches. This is a step in the right direction from an innovative, resourceful and fast-paced packaging industry.
Let's assess the materials marathon though. Diving into this debate leads to more questions than answers: if every last plastic bottle is scraped from the beaches, and we find alternatives to plastic packaging tomorrow, would this provide the silver bullet? Do we have enough resources for alternatives to plastics to work on an industrial scale? Are alternatives the answer, or should we turn our gaze towards the overall efficiencies of all materials throughout the supply chain, choosing the optimum approach? Can alternatives provide the same barrier functionalities as plastics and therefore help tackle the ultimate sin against sustainability - product and food waste?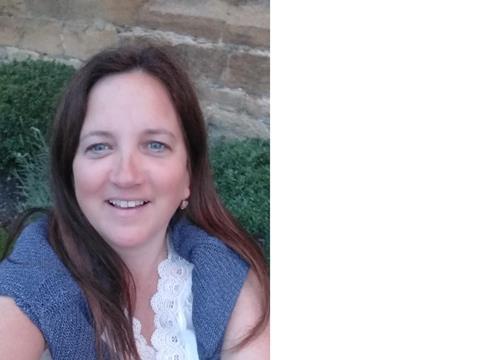 Dr Liz Wilks
Dr Liz Wilks, European director of sustainability at Asia Pulp and Paper, one of the biggest producers of pulp, paper and packaging in the world, shares food for thought, "The main reason plastic packaging has been adopted and developed by society is to address a rising global supply chain. Consumers want to see the food they purchase for example, and of course, plastic also helps to combat food waste and prolong shelf life.
"In a global supply chain, businesses also have the responsibility to closely review the practices of the companies from which they source materials. Re-examination of the supply chain establishes a system of checks and balances that keep private organizations transparent to one another, and subsequently consumer's behavioural change makes it possible to shift away from our disposable society."
Rising up to the challenge
Kajsa Dahlin, group innovation manager, AR Packaging, with core markets in the folding carton and flexible packaging in Europe, comments, "Since plastics usually provide strong barriers to keep food and consumers safe, there are challenges for providing plastic-free alternatives while maintaining basic but crucial packaging properties."
In January 2018, Iceland Foods boldly stuck its head above the parapet, announcing it had committed to becoming the first major retailer globally to eliminate plastic packaging from all of its own brand products. At the time, our head of content, Tim Sykes, heard from Iceland's then head of packaging, Ian Schofield: "Replacing plastics presents significant challenges in terms of functionality, particularly for microwavable and ovenable ready meals, where we will need to find an alternative to black plastic trays. There is also the economic challenge of ensuring that the new packaging doesn't cost more."
But how has Iceland's ambitions panned out? The retailer has recently returned to plastics despite its commitment to remove it from stores.
The frozen food giant had to postpone a plastic-free greengrocer trial and reintroduce plastic packaging for its bananas, equating to 10 million plastic bags a year, when it found the replacement paper bag did not meet expectations and it saw a reported 20 per cent drop in sales.
Mr Walker, managing director of the frozen food chain, said the sales dip proved that the Liverpool greengrocer trial in particular was not sustainable.
Although just a microcosm of the wider debate, assessing the packaging of bananas underlines the challenges we face when it comes to answering questions around sustainability. Why didn't the consumer respond well to the sustainable alternative? Did this lead to more food waste? How do we weigh up sustainability against profit?
"It's damn hard work and it's costing us a lot of money," admitted Mr Walker.
He said as a private business Iceland is able to focus money and effort on these initiatives but has to be mindful of the impact on the firm. "We can't do anything that will endanger the success of the business, because there are 25,000 jobs depending on it," he said.
Iceland continues to strive towards its 2023 goal with new initiatives addressing its plastic-free pledge. Perhaps the struggle this retailer is facing should be a lesson to us all. Funding, sourcing and implementing viable alternatives to plastics is complex; meeting consumer expectations such as longevity of shelf life, and the offering of global foods locally, is deeply entrenched in our globalised supply chain – a tough challenge to address with feasible solutions.
Merav Koren, VP of marketing, TIPA, a company focused on the development of compostable packaging, underlines that it is vital to emulate the same properties as plastics with alternatives, "In order for compostable packaging to be accepted as a viable replacement for conventional plastic packaging, the former must provide at least the same technical properties as the latter."
A myriad of features must be reached in order for the packaging to be suitable for diverse applications. For instance, she explains, "Vegetables that respire such as cucumbers require special packaging with technology that leaves moisture outside of the bag. TIPA products know how to answer to these different requirements, emulating conventional plastic packaging in properties such barrier, durability, transparency, shelf life, sealability and flexibility."
More development is needed at end of life processing for these alternatives, however, points out Merav Koren, "Arguably most dire is the lack of proper infrastructure set in place for organic waste and compostable packaging alike. The powerful duo of government action and consumer awareness is bringing us closer to establishing infrastructure which supports a circular economy."
Forward-progression?
An area of particular concern within the public sphere is single-use plastics due to their instantly obvious transformation from packaging to waste.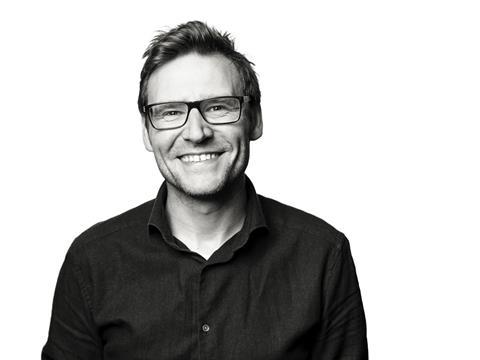 Alex Peacop
Alex Peacop, consumer sector manager, DCA Design, one of the world's leading product design and development consultancies, shares that many briefs they receive specifically ask for 'no plastics' rather than to develop a sustainable approach. "Our perspective is that we don't see plastic as the enemy. Heinz Tomato Ketchup is a great example of a shift from glass packaging to plastic with obvious benefits and progression," he comments.
"Switching to an alternative should be carried out in a way that adds value in a forward progression. It's not as simple as substituting one material for another. Brands invest so much in manufacturing capabilities that steps should be taken over years for alternative futures, rather than by making snap decisions."
Brands know that consumers now expect them to make packaging more environmentally friendly. Tony Hitchin, general manager of Pro Carton, the European association of carton and cartonboard manufacturers, comments, "There are numerous media reports about major retailers and brands that are in the middle of sustainable packaging drives, a large number of drinks brands including recently Guinness announcing a move into 100 per cent recyclable and biodegradable cardboard to replace plastic multipacks, be they shrink-wrap or hi-cone ring packs.
"McDonald's also recently revealed it is getting rid of plastic packaging for its salads and McFlurry ice-cream products, replacing it with cartonboard, to reduce plastic waste by 485 metric tonnes annually. The changes are part of the company's commitment to source all packaging from renewable or recycled sources by 2025."
To be hugely critical of switching materials as a snap solution however, it has been recently claimed in widespread reports that McDonald's new paper straws, which were introduced due to a petition from customers (nearly 500,000 people asked the company to stop using plastic straws) have resulted in a soggy mess rather than a winning result.
Following negative customer feedback, the fast food chain thickened the new paper straws as they were disintegrating in drinks. Its short-sighted approach to sustainability however didn't factor in recycling infrastructure. The straw's thickness makes it difficult for them to be processed by waste providers, according to McDonalds. Clearly, substituting one material with another should factor in all aspects of the supply chain, as well as functionality.
Ricardo De Genova, vice president, strategic marketing and R&D – Paper, Solenis, a leading global specialty chemical supplier and provider of process and water solutions, suggests, "In this new paradigm, the pulp and paper industry has an opportunity to rise to the challenge of providing more environmentally friendly fibre-based solutions to replace all those plastic straws, bottles, disposable cups and food containers.
"But before that happens, it's important to address the foundational aspects of packaging production that will enable these products to be replaced with environmentally friendly alternatives, especially in food applications… paper barrier formulations must still allow the same packaging functionality while meeting sustainability goals."
Technological advancements
There are ways the packaging industry is collaborating to take a more holistic approach to developing more sustainable solutions. It seems there is a huge focus within the marketplace for high-speed technology to marry with paper-based packaging.
Bosch Packaging Technology and BillerudKorsnas have, for example, intensified their collaboration and are developing new paper-based packaging innovations.
The first concrete result of this enhanced collaboration is the development of a new packaging concept called Pearl. It aims to show how uniquely formed and right-sized small packages, called shaped paper pods, can contribute to a more sustainable future by utilising the unique formability of the FibreForm® material (3D-formable paper patented by BillerudKorsnäs). The material is processed on machinery from Bosch Packaging Technology, which not only contributes longstanding expertise in forming, filling and sealing of a wide variety of materials to the cooperation but also ensures the subsequent industrialisation of the newly developed technologies for commercial production.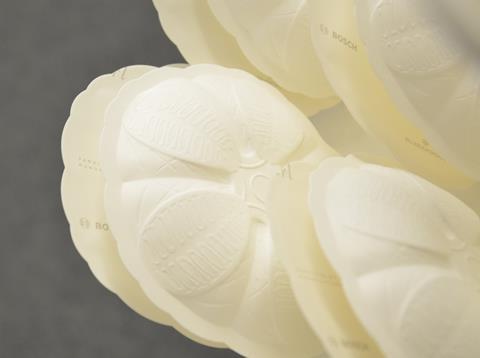 In industries like beauty and personal care, bread spreads, savoury and confectionery, single-use plastic packaging is widespread. "The goal is to support these industries and replace plastic in product samples, inserts, refills, portion packs and disposable packaging," says Simon Johansson, project manager at Packaging Solutions BillerudKorsnäs.
Conventionally, the majority of popular confectionery bars are packaged in polypropylene, a flexible choice that adheres to high hygiene standards. Nestlé announced in July 2019 the launch of its YES! snack bars in a paper wrapper using a high-speed flow wrap technology.
Up until now, high-speed production of shelf-stable snacks was only achievable using plastic films and laminates. Now paper can be used at large scale while guaranteeing product quality and freshness over the entire shelf life.
This innovation surely widens the choice of materials for food products; however, it will be interesting to learn the impact this has on aspects such as shelf-appeal and overall efficiencies.
It remains to be seen whether this will be adopted further by Nestlé brands, or across the marketplace.
---
Case study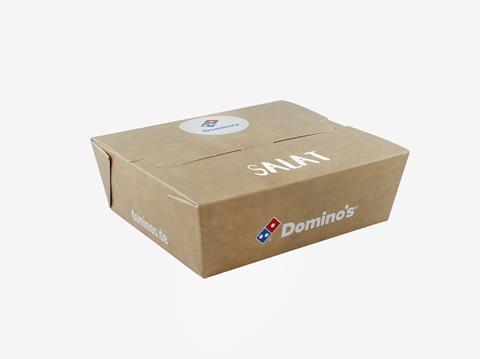 AR Packaging found opportunity for innovation to remove unnecessary materials and improve recycling in the newly launched salad boxes from Dominos Germany. The standard solution used was a cartonboard material with a barrier PE liner on top. By providing an alternative, plastic-free, barrier coating, the packaging could become repulpable and strong while still managing the required grease- and moisture-resistance.
---
A holistic approach
There is a strong focus on the end of life of plastic packaging, and less on discussing other key points such as material extraction, which of course, plays a vital part in the sustainability debate.
Liz Wilks comments, "Within the paper industry, there is a huge focus on minimising impact such as with forestry management. I find it interesting that the raw material derived for plastics is not discussed widely, the focus is currently on its end of life. There's clearly a drive on this particular subject, but we need to take a step back and look at where plastic and other materials are used with paper and work together to make a bigger impact from cradle to grave. This means working together as a supply chain to ensure that the finished product can be separated, reused, or recycled.
"We've learned from this process ourselves as a sector and I think we should stand together as a packaging industry. There may be alternatives to plastics that make sense, but we should scrutinise the sourcing of all materials used within the packaging industry. Not just the physical extraction, but also other major issues such as how land is managed and social conflict," says Dr Wilks.
Tony Hitchin, Pro Carton, supports this viewpoint, "Sustainability rests on the idea that goods and services should be produced using resources that can be easily replaced, and that do not damage the environment. We believe that business leaders must look beyond the three Rs – Reduce, Reuse, Recycle – to achieve sustainability in the truest meaning of the word."
Dai Sanders, consumer sector manager, DCA Design comments: "There's no quick win. Just take Haagen Dazs Loop reusable packaging initiative as an example. A huge change to its business model was needed to create effect, it's not as simple as switching from one material to another."
He adds, "We have reached the point whereby amongst these genuine and noble efforts to address sustainable approaches, there are also attention grabbing and 'greenwashing' switching of materials. This is going to confuse consumers and they may lose interest. Consumers act out of personal responsibility by making a conscious decision to purchase a sustainable alternative, but that is only going to last for a certain period of time, especially when we start seeing taxes penalising them. We need to incentivise consumers in alternate ways such as with returnable schemes."
Liz Wilks reasons, "We must discuss all the packaging materials together as an industry, and across the supply chain."