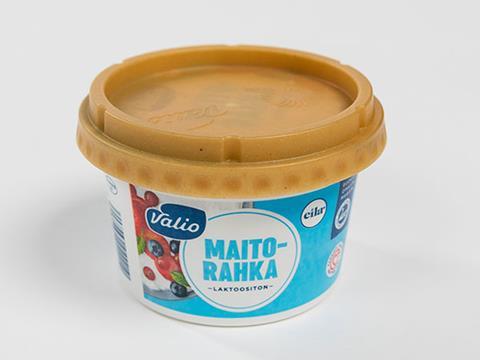 Stora Enso and Finnish dairy company Valio have distributed 10,000 wood-fibre-based biocomposite lids to encourage consumers to reduce their food waste. The reusable lids also pilot a new biocomposite food package application.
According to the partnership, packaging – including lids – plays an important role in reducing food loss and waste by protecting food items during transportation and storage.
"With this pilot project, we want to encourage people to take small concrete actions to prevent food waste. The lid helps to cover any leftover crème fraiche and quark in the cups, thus preventing food waste," says Jussi-Pekka Lumme, Packaging Development Manager at Valio.
The co-operation also intends to trial how a biocomposite works when combined with a traditional food package. The reusable lids are made of Stora Enso's DuraSense® product, a biocomposite material made of a blend of wood fibres and polymers. According to Stora Enso, DuraSense helps to replace plastics in a wide variety of contexts and has a lower carbon footprint, which, in the company's view, makes it a climate-friendly alternative to fully fossil-based plastics.
"Valio was the first in the world to start using fully plant-based one-litre milk cartons in 2015. In 2018, we converted all of our 250 million gable-top milk, yoghurt, cream, and sour milk packages to fully plant-based ones. These packages are part of broader work where Valio aims for carbon-neutral milk, i.e. resetting milk's carbon footprint in 2035. We continue to explore new package innovation possibilities that we could try out and implement," says Jussi-Pekka Lumme.
Hannu Kasurinen, Head of Packaging Materials at Stora Enso adds: "We at Stora Enso see a strong demand for climate-friendly food packaging, where strong brands searching for eco-friendly solutions are one of the driving forces. Together with our customers and brand owners, we are actively developing new innovative solutions to support food chains to respond to consumer demands for sustainable choices."