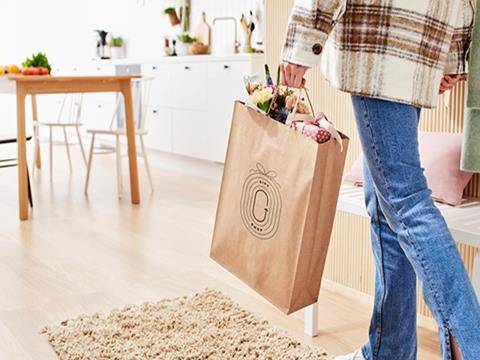 Stora Enso has launched CarrEco Brown, which it claims is made from renewable and recyclable fibres with a three-layer structure to enhance its strength and tear resistance properties.
According to Stora Enso, CarrEco Brown is a new unbleached and uncoated board that is fully recyclable. The material is reportedly made from 100% renewable fresh fibres from sustainably managed forests.
In addition, the company says CarrEco Brown has a three-layer structure made with its patent-pending Tri-Ply technology, which offers enough high tensile and tear strength properties for shopping bags.
Stora Enso adds that CarrrEco Brown is safe for direct food contact and contains only FDA-compliant chemicals. The company says that this makes it especially suitable for takeaway food and groceries.
CarrEco Brown has a natural look and feel without containing optical bleaching agents, according to the company, with the material's smoothness and formation qualities offering printability options for brand owners. The material is available in grammages starting from 85 gsm.
Oscar Duarte, business segment director, kraftliners at Stora Enso Packaging Materials, comments: "Unbleached paper bags are a good fit with the preferences of today's eco-conscious consumers.
"We are well-positioned to meet the growing demand for paper bags, especially in trending end-use areas such as takeaway food.
"Our newest material CarrEco Brown can help our customers seize these growth opportunities in a sustainable way."
Last month, Stora Enso announced an €8 million investment for doubling its production capacity of formed fibre in Europe, with a focus on expanding its site in Hylte, Sweden, with new machinery.