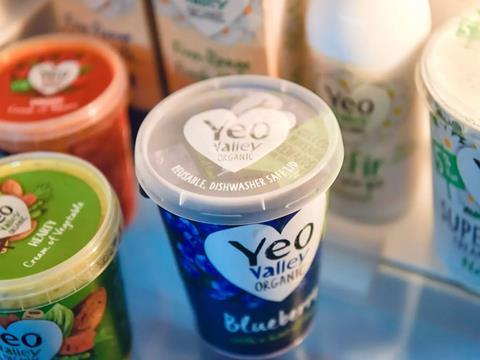 Yeo Valley is introducing reusable lids for its 350g and 450g yoghurt tubs from January 2023, which will be available to consumers through the exchange of 'Yeokens' in an online loyalty scheme.
Yeo Valley Organic's 350g and 450g yoghurts are currently sold in Greiner Packaging's K3 cardboard-plastic cups, which are reportedly recyclable, made from 100% recycled PET, and wrapped in cardboard made from FSC-certified material. The packaging can be cleaned and separated into the plastics and cardboard recycling streams, respectively.
On the other hand, the reusable lids are designed to be washed by hand or put in the dishwasher for the consumer to reuse. Consumers can go to the Yeo Valley website and exchange Yeokens – earned by redeeming codes from Yeo Valley packaging – to obtain their own lid, which is set to replace the previous clip-lid design.
"After successful trials removing clip lids from our Greek-style yogurt range, we're saying goodbye to plastic lids across our 350g and 450g tubs," says Sebastian Rusu, head of Brand Planning & Consumer Communications at Yeo Valley Organic. "Making this small change will remove 145 tonnes of plastic a year – that's the equivalent of 188 Friesian cows, 24 African elephants, or 17 tractors.
"Packaging is an important aspect of our overall sustainability strategy and one where we can make a significant difference with even small changes. We are working to 'close the loop' on our packaging. We are members of The UK Plastics Pact and have made good progress on our journey to ensuring that all of our plastic packaging is perfectly recyclable and made from recycled materials."
In 2020, Greiner Packaging unveiled its own reusable yoghurt cup lid, which is reportedly dishwasher-safe and compatible with most yoghurt cups currently available on the market. Stora Enso and Valio also ran a trial with 10,000 reusable, wood fibre-based biocomposite lids to package the dairy company's products.
More recently, resealable lid manufacturer CUPEX released the reusable lid COMFORT as an expansion of its existing product range.