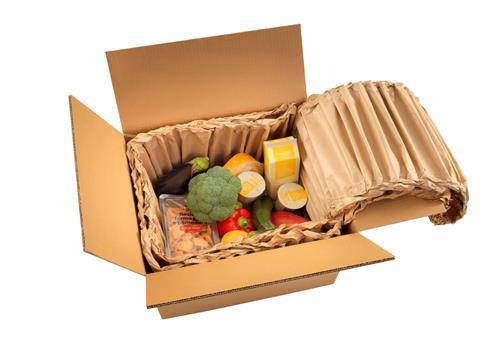 Ranpak announces WrapPak, a cold chain solution that it says is recyclable and provides thermal protection for up to 48 hours for e-commerce food delivery.
The company says that the WrapPak Protector portfolio is aimed at food companies shipping products requiring sustained frozen, chilled, and ambient temperature ranges. It adds that the WrapPak range is suitable for confectionery, meat, seafood, dairy, and chilled beverages.
Anne de Rouw, business development manager of cold chain Europe, comments: "The e-commerce market for food and beverages in Europe has seen a dramatic increase as consumers experienced the convenience of online food ordering during the pandemic. This includes meal kits, grocery deliveries, and specialty foods.
"At the same time, consumers are looking for sustainable packing solutions and have a less-than-positive unboxing experience when they open a box full of plastic packing materials.
"That's why Ranpak has placed significant focus on the WrapPak Protector, our paper-based cold chain packing solution, which uses waved paper pads as thermal liners."
According to the company, it worked with customers to determine the WrapPak range's ideal configurations, which included optimizing the size of corrugated boxes to fit its waved paper pads.
In addition, WrapPak is made from uncoated Kraft paper, which it claims is 100% recyclable, renewable, and biodegradable, as well as moisture resistant. WrapPak's liner is also reportedly manufactured from FSC-certified materials.
Ranpak will provide customers with the required WrapPak Protector convertor, which turns paper into waved pads, and pallets of its paper liner to be used with a double- or triple-wall corrugated box.
Products can then be inserted into a lined box with cooling elements added, with the number of paper layers depending on the temperature required and the shipping duration. This apparently allows end-users to produce the packaging material on demand.
The company claims that the WrapPak cold chain solution require less space in a warehouse, with one pallet reportedly packing as much product as up to 24 pallets of EPS cold chain boxes.
Ranpak appears to be building on its earlier paper-based cold chain solutions to meet the growing demand for sustainable food delivery packaging during the COVID-19 pandemic. In 2018, the WrapPak Protector range was debuted in the UK by packaging solutions provider Antalis and used for products such as Diet Chef's frozen hamper subscription box.