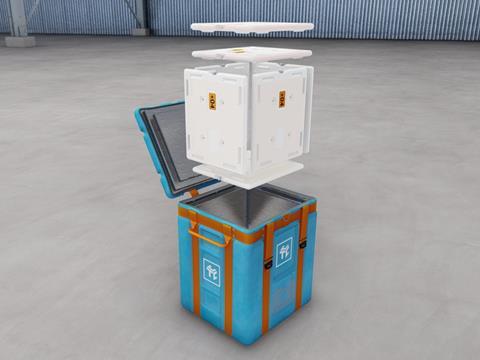 Tower Cold Chain says its new KTEvolution reusable container is lightweight and easy to carry by one person, making it suitable for smaller pharmaceutical shipments with a range of internal temperature settings that can be maintained for 120+ hours without external power or manual intervention.
KTEvolution will be launched in 26-litre and 57-litre options, as well as available across a full temperature range. Tower Cold Chain says that this makes the solution ideal for the transportation of pharmaceuticals, life-science, and biotech products that require an internal temperature of -70°c, -20°c, +5°c, or +20°C.
According to Tower Cold Chain, its existing product portfolio for the transport of pharmaceutical products between suppliers, manufacturers, distributors, and end patients has demonstrated fewer than 0.1% temperature excursions on average, based on data from over 25,000 shipments.
The KTEvolution reportedly offers over 120 hours of thermal insulation without needing external power or human intervention during transit, allowing for worldwide shipping. The company explains that the KTEvolution uses phase-change technology incorporated with lightweight, vacuum-insulated panels to achieve this long-term thermal protection without manual intervention.
To enable monitoring across the supply chain, KTEvolution features built-in datalogging technology and an integrated temperature monitor display located at the top of the unit, which the company says can provide real-time confirmation of internal temperature and on-delivery sign-off. This apparently means the KTEvolution can be fully connected with integrated smart technology solutions such as location, temperature, shock, and impact monitoring.
Tower Cold Chain adds that KTEvolution responds to the growing trend in smaller pharmaceutical shipments such as direct-to-patient, samples, and last-minute deliveries. The handleable solution, which can be carried by one or two people, balancers performance and durability with optimised weight.
In addition, the patent-pending design of KTEvolution features minimal fixtures and fittings, including a lightweight webbing system that runs around the external body of the container. Tower Cold Chain explains that this custom-built harness provides an even distribution of load to simplify the manual handling process, alongside integral handles attached to the top that can be folded into the container surface when not in use.
The KTEvolution container also includes recyclable polyethlene foam placed in critical areas to protect against damage through impact and shock, according to the company. Overall, the company says that KTEvolution is a hard-shelled, completely sealed unit that is fully waterproof and washable, minimising the risk of microbial and bacterial product contamination while enabling reuse.
Martin Hawes, global head of product development at Tower Cold Chain, comments: "Pharmaceutical manufacturers, 3PL providers, and airlines value the consistency and stability assured when shipping products in Tower containers.
"Customer feedback also made it clear that they would welcome a smaller solution, which offers the same robust, reliable and reusable benefits, but at a size ideal for manual handling. Hence the KTEvolution – which brings together the best of both worlds."
Last year, Tower Cold Chain launched a pallet solution for the transport of ultra-cold, temperature-critical pharmaceuticals that require an internal temperate range of -80˚C to -60˚C, which includes vaccines.