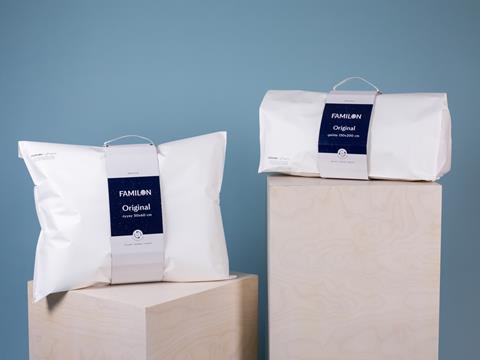 Paptic has collaborated with Familon, a Finnish bedding brand, on plastic-free, wood fibre-based packaging that can be recycled in paper and cardboard streams for its range of pillows and quilts.
Based on a novel foam technology, Paptic is made of wood fibres from sustainably managed forests, with materials available as FSC certified.
According to the company, Paptic materials are durable and strong, with unique haptic and moisture repellent features. The company adds that this allows it to be reused a number of times, as well as recycled after use with cardboard and packaging papers.
Familon says it is responding to consumer demand for more sustainable packaging by using Paptic, with its pillows and quilts being sold in the new bio-based packaging from the beginning of this year. The companies also note that the closure of the packaging is made with cardboard, making the solution plastic-free.
Olli Liljavirta, CEO of Wendre Finland Oy, which oversees the Familon brand, comments: "This is an excellent example of a co-operation to find a solution to reduce the use of plastic in packaging.
"In the new packaging from Familon, the unique properties of wood fibre based Paptic material comes to the fore. The material's flexibility and strength made this packaging reform possible.
"In addition, the distinctive touch and feel of Paptic gave the packaging a high-quality finish."
The companies are encouraging consumers to reuse the bag - for example, as a mailer, laundry bag, or for sorting waste - before it is recycled.