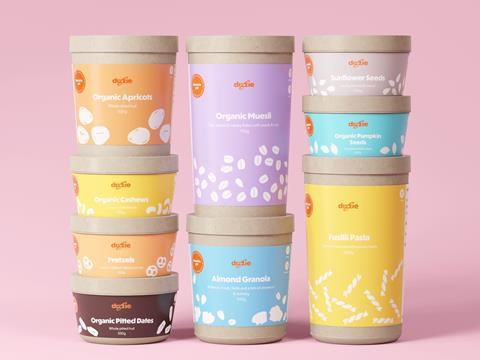 Industrial design studio Blond has developed a line of reusable and recyclable pots for Dizzie, an online refillable grocery store, and its closed-loop delivery system.
Supposedly free of fossil fuels, the pots – made of a biocomposite containing wood fibres and bio-PP, said to be 98% renewable – are designed to utilise warehouse space more effectively than standard packaging. Each of the three sizes available differs by a third, with three small pots reaching the equivalent size of one large pot.
The lids are also embellished with a groove detail to assist in stacking, both during delivery and in a customer's storage. These factors allow the pots to be stacked efficiently in transport, regardless of varieties in order size, and are expected to cut down on the carbon footprint of standard delivery services.
A closed-loop system has been planned in which the pots will be collected from consumers, then washed and reused by Dizzie. After the 200 cycles of reuse it is apparently able to withstand, the packaging will be returned to the manufacturer, where it will be broken down into its raw materials and refashioned into new pots. This method hopes to spare 114 billion pieces of plastic from supermarket shelves.
"It's great to collaborate with a brand that shares the same objectives," says James Melia, Blond's founder and creative director. "At Blond, we strive to rethink the way we live, consume, and interact with everyday products, and where appropriate, with the aim to create a more sustainable alternative.
With Dizzie, a simple pot could have a monumental impact; we have calculated that if everyone bought 10% of their weekly shop in reusable packaging, we'd save 19.4 billion pieces of plastic a year. As a design agency, that is a fantastic journey to be a part of."
Dizzie's Theo Letts adds, "Our mission is to save the UK from the 100 billion pieces of plastic waste produced every year through reusable, closed-loop packaging for grocery. Blond really understood the brief we gave and designed a solution that meets not only the needs of the consumer, but the logistics of cleaning and distribution."
Other innovations in the use of wood fibre includes envoPAP's envoBOX, made from discarded agricultural fibres instead of virgin wood. The product was a finalist in the E-Commerce category of the Sustainability Awards 2022.
Releaf Paper has also celebrated the online launch of its paper bags made of cellulose from fallen leaves.